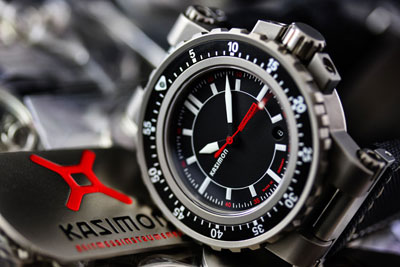 German watch brand Kazimon is a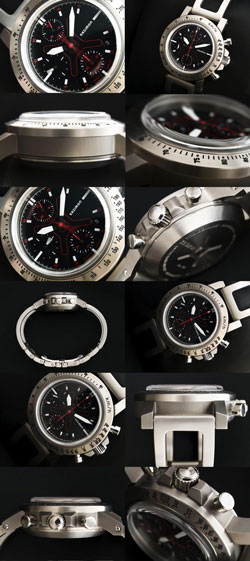 young company founded by Kazim Kenzo. The main goal is to produce high-quality timepieces that are characterized by their durability, functionality, impeccable precision and remarkable design. All models Kazimon are equipped with local high-end components made in Germany. All models are equipped with ETA Swiss movement and produces a limited series, which undoubtedly provides the highest quality control.
One of the most remarkable models of young brand Kazimon is, perhaps, the new model of diving chronometer Eintausend, which is characterized by original design.
The back cover has a vent in the form of a company logo. Even the crown is presented in a rather interesting variation: in the form of a propeller. Sufficiently massive case with diameter of 44 mm is made of high quality German steel 316L. Automatic ETA 2824-2 at 25 stones. The model is water resistant up to 1000 meters, which is provided by 3mm Domed sapphire crystal with antireflective coating, rotating bezel with 60 "clicks" per revolution, a soft inner shell with protection against magnetic fields up to 80 000 A / m, a built-in automatic helium valve. These wrist watches are represented with solid steel bracelet. It should be noted that a watch with all its attributes have considerable weight. This is a rather "serious" watch for such a young brand. Buying watches Kazimon Eintausend is avaluable for $ 1,500.
You can also note the model wristwatch Drei, which perfectly combines retro and modern styles. «Drei» in German means three, which means that in a model there are three dials. This is a standard 12 - hour chronograph, the design of buttons and the diameter of the titanium case is 41 mm which tend to design of buttons in 1940th. By modern standards, these watches are of medium size and are perfect for those who cares about the watches that don't look too bulky on the wrist. The model is equipped with a Swiss movement ETA Valjoux 7 ᖮ. Nubs of the watches concave inward, which makes wearing of this watch model more comfortable. Titanium bracelet is wide enough (20mm) and also is the epitome of retro style. However, on the face covered with sapphire crystal, has found its place modern elements. Dial color scheme is made up of white, black and red colors. In the center of the logo Kazimon "X", which is in harmony with all elements of the dial, without interfering with the reading time. Despite its diving background, the bezel has tachymeter scale of hours, and hands in the style of pilot's wrist watches. The price is $ 1790.
With such excellent value for money wrist watches Kazimon may well be shortages in the watch market.