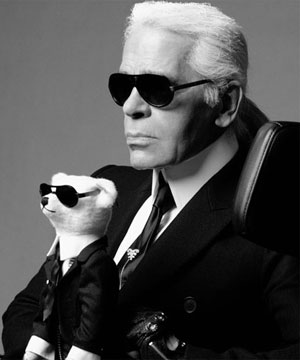 Karl Lagerfeld is a German fashion designer and photographer who was born in Hamburg in a family of a bank clerk. He did not have any brothers or sisters. He was a single child born in the last wedlock of his parents. Karl's mother was absolute aristocrat who knew the way with perfumery and fashion. She made a huge influence on her son and the choice of the profession he made.
In 1952 Karl moved to Paris. He studied at a school belonged to Haute Couture Syndicate. In 1955 he got his first award in the competition devoted to the development of coat design which was arranged by the Wool International Society. Later Karl became the assistant of a French fashion designer Pierre Balmain. Karl has been working there till 1958. In 1959 Karl was invited to the fashion house of Jean Patu, where he took the position of art-director. At the new place Karl had been working for 4 years and after started collaboration with such famous brands as Chloé, Krizia, Charles Jourdan and Fendi. Being working on this brand he created absolutely new conceptual collections.
In 1974 Karl Lagerfeld created his own design company Karl Lagerfeld Impression. In five years he was invited on a position of a professor to Vienna Hochschule fur Angewalte Kunst.
Being an art-director in Chanel fashion house was very remarkable for him. It was in 1983 when Coco Chanel pass away. For a long time the administration could not find anybody to become the head of the fashion house. They had been searching for 12 years for a suitable candidate and finally have found a person who could save the spirit, the traditions and the main conceptions of Coco Chanel brand.
Karl breathed in new life into the company's collections having saved all the heritage left by legendary Coco all the esthetics and elegance.
All the models created by him combined the traditions and novelty. It was difficult to reproach for something because all the models made by Karl for Chanel collections were full of very Coco features. However all his new ideas were caused by the latest fashion tendencies.
In 1984 Karl released his first collection all the items of which got the label: "Karl Lagerfeld". Later it was renamed into: "Lagerfeld Gallery".
Since 1984 to 1995 Karl had been collaborating with a German fashion designer Claus Steinmen before he became a head of Chloé fashion house in 1997. Karl's work was concentrated not only on clothes design. In 1993 he was awarded with Lucky Strike Designer Award prize.
Karl was also fond of Photography sending one's pictures to very prestigious magazines,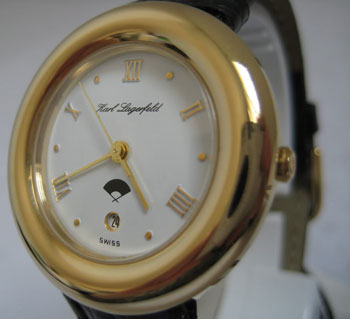 and in 1996 he got a prize of National German Photography Association.
In 2000 Lagerfeld opened a Gallery in Paris and own publishing house called "7L".
In 2003 he wrote and published a book called "the Diet of Karl Lagerfeld". He started up a perfume production and made a lot of accessorizes and watches as well.
In 2007 at "Internationale Filmfestspiele Berlin" the premiere of the movie shooted by Rodolphe Marconi and called "Lagerfeld Confidential".
In 2010 in France Karl Lagerfeld was decorated with an be decorated with "Ordre national de la Légion d'honneur" for his contribution in culture and art.
Success in all one's deeds Lagerfeld explains in the following way: "The cause of my success is that I know how to go ahead, outstripping the time. Creativity, private life and work for me is a single whole for me.
Karl Lagerfeld now has his own company, collaborating with some famous fashion houses, being freelance artist.
Opuses made by his hands combine elegance, tender, perfect style and taste. Today Karl Lagerfeld collections are added by new series of clothes, foot-wear, perfumes and many other accessorizes and watches as well.
Designer's talent is reflected in every product (wear or accessorizes it does not matter).
Classical and elegant watches, designed by Lagerfeld amplify the images of many women all around the World.
Original watch are made of stainless steel, dials are supplied with very thin hands, date aperture placed at different hour marks and surely the logo which is the name Karl Lagerfeld which is an absolute decoration of the watch.
Watch models are supplied with straps of different colours or stainless steel bracelets.
There are also not only round-shaped cases but square-shaped cases as well in Karl Lagerfeld's collections. Also there is a very unusual model which case is squared and another case of a round shape is placed inside the squared case. The dial of this watch is white, supplied with two hands, hour marks are Roman: "12", "3", "6" and "9" . There is and incrustation with precious gems at the other hour marks. The case is gilded.
Wonderful Karl Lagerfeld watch you can buy at the official web-page of Karl Lagerfeld brand.