Ever seen how time flies? The American watch company KULTUhR transforms by introducing complexity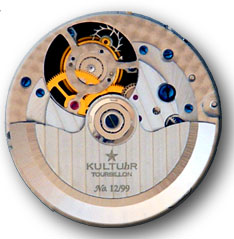 and unique style of hippie projects super-meter time. Inspired by the bright lines and dynamic colors of contemporary art, avant-garde design of wristwatches displayed in the complex mechanism of "floating" tourbillon. The stylish design allows fans of highly watchmaking masterpieces to express all their passion and reverence in relation to the toughest mechanisms. High fashion gives rise to the cult of fashion.
In contrast to brands that have a watch with a tourbillon valued at $ 30,000 and above, the watch brand KULTUhR decided to go the other way. The company is committed to constantly create innovative design and implement interesting design solutions, with products available brands at very attractive prices. For the first time to buy a watch with a tourbillon can afford not only collectors, but also romance and dreams of becoming the owner of such complicated mechanisms. Watch tourbillons KULTUhR is designed for everyday wear, and luxurious design of elegantly models emphasizes the refined taste and creativity of their vehicle.
Nouveau style, combined with a Swiss watch in the level of quality, includes innovations such as his carbon fiber, pearl and pearl-white dials, raised "railroad" tracks, the case with a black PVD-coated, alligator strap, snake, fish and natural rubber. Quality and accuracy are paramount. To ensure this, all models are tested within 15 days in four different positions on Swiss machines Witschi, checking mechanism Tourbillon functions in different temperature conditions, the degree of humidity and controlled shock situations.
The brand name is of German words KULTUhR «Kultur» and «Uhr». Wide range of saturated colors and bold design - an undeniable reason to buy a watch company in the collections where you can find just the perfect time gauge that matches your image. Top quality watches expressed in such specific functions as a mechanism of "floating" tourbillon with power reserve of up to 50 hours power reserve, calendar and date aperture, decorated in the style of Côtes de Genève, blued screws and fasteners in the shape of butterflies, luminescent hands, a double convex sapphire crystal with anti-reflective coating, transparent case back, water resistant to 5 ATM and warranty. For more luxury models give a real sapphire, diamonds and other precious stones used to decorate the body.
For the short term the company has released numerous collections of watches equipped with tourbillon function: Automatic, Skeleton, Happy Buddha, Fab Classic, Zoom Pilot, Superstar, Saint Tropez, Quadra, Diamonds and Lady Size.
Luxurious women's watch model from a collection of Happy Buddha is a symbiosis of artistic style of the East and the highest technical craftsmanship. Traditional Chinese characters, made in red color, contrast, but at the same time and blended in color with black onyx dial and tourbillon mechanism ultra imperceptibly blurs when you create a volatile balance between modern style and endless elegance. The model released in a limited quantity of 99 copies.
The company's products is high-end niche. Stylish and modern watch KULTUhR are designed for those who know that everything does not mean quite expensive. Treat yourself to buying a new chronograph, and once again make a simple truth.