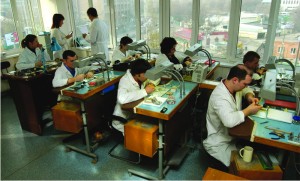 The autumn of 2002 was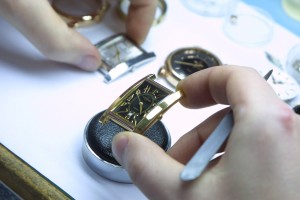 marked by production of Ukrainian trade brand KLEYNOD. The name itself of the brand are borrowed from Ukrainian culture. Kleinods are the symbol of government and earlier they were the symbol of hetmans. "Kleinod" is translated from German and Polish as precious, value.
Ukrainian watch brand KLEYNOD makes its products on the base of own constructor-technological and design developments. In collection of wristwatches "kleinods" perfectly combine world modern tendentious of watch world and Ukrainian elements.
Watch range of brand KLEYNOD is presented rather widely: it includes more than 150 models, among them are usual models of wristwatches KLEYNOD, souvenir and collection watches from exclusive series KLEYNODS INDEPENDENCE and also 30 models of gold watches KLEYNOD GOLD. Release of the collection was marked by KLEYNOD INDEPENDENCE fifteenth anniversary of Ukrainian independence. The main design elements of this series was National Emblem of Ukraine and its main element - the Trident.
For luxury segment of watch market there was collection KLEYNOD GOLD presented. Gold models of this collection are made in classic design and differ with its beauty and brightness. This collection includes 30 models of men and women wristwatches. This collection will like to the most exacting connoisseurs of chronometers.
During making watches KLEYNOD is used Swiss technology of production and modern watch equipment, which let to complete about 7 thousands watches in a month with newest technology. At the beginning of 2007, in the company entered innovative four-leveled principle of technique control production, which let to high standards of quality to Swiss level.
All models of men's and women's watches KLEYNOD are made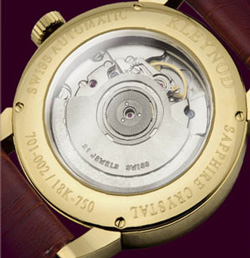 from stainless steel, stainless steel with IPG-gilding or gold. Ion plating (IPG - /Ion Plated Gold/ or PVD), providing durability and integrity of covering, for long time use in models with gilding steel case. Also, they use yellow, white and rose gold 585 and 750, and for incrustation they use Swarovski crystals (gold models are decorated with fianites).
All wristwatches KLEYNOD are equipped with Swiss movements ETA (mechanical automatic winding) and RONDA 9quartz). Models with automatic winding are equipped with Swiss movement ETA 2824-2 and 2892-A2 on 25 stones. Power reserve is 38 hours (movement ETA 2824-2) and 42 hours (movement ETA 2892-A2). Movements ETA have anti shock device axis balance and automatic device of winding spring motor. Quartz models KLEYNOD are equipped with Swiss movement RONDA modifications 705, 785, 715/732, 762, 1062 on 4, 5, 7 rubies.
Cases of quartz models are equipped with mineral crystals, and cases with automatic winding with sapphire crystals.
Straps of wristwatches KLEYNOD are made from ramp leather and equipped with durable clasps (available gold). Bracelets are made from stainless steel , which has hypoallergenic properties.
All models have water resistance up to 30-50 meters. Middle full lifetime of quartz wristwatches KLEYNOD is 10 years, mechanical-20 years. All watches have 2 years warranty.