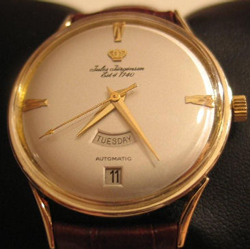 Jules Jürgensen is one of the oldest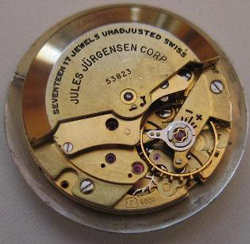 and the most widely known watch companies in the world. It was founded in Denmark in 1740 by Jules Jürgensen and Isaac Larpent. At first the company was named Larpent & Jürgensen, but after Jules' death in 1811 his younger son Frederik took over the company and renamed it Frederik Jürgensen. At the same time Jules' elder son created his own brand, called Urban Jürgensen, which produced exclusive watches. After Urban Jürgensen company founder's death, his younger son moved to Switzerland, where he founded his own Jules Jürgensen Copenhagen company in 1830, and the elder son, Louis, continued his father's business in Denmark. Nowadays, the company, founded in Denmark, is called Urban Jürgensens & Sønner and is one of exclusive high quality wrist watches producers.
Jules Jürgensen company, situated in Switzerland, is famous for its unique various models, which are an inseparable part of watch collectors' and connoisseurs' collections. In 1936 one company purchased Jules Jürgensen brand, but the watches were still produced in Switzerland. But Jules Jürgensen watches' production in Switzerland lasted till 1957 before the documentary evidence, that the watches are an American company's property, as all watch details and watches were produced in USA, was issued. In 1957 Jules Jürgensen company was sold to Mort Kleiman, after which it was stated that the brand was going out of business, but it continues rendering repair services for the already produced models till present day.
Original Jules Jürgensen watches are executed in classic style and made of stainless steel or gilded steel. The dials are supplied with Roman numbers or mark in the form of lines, 3 hands, a date aperture at the "3" position. The models are equipped with quartz movements or the ESA 9154 movement, produced in 1967, with the frequency of 28800 half-oscillations per hour.