In 1929, the global economic crisis reached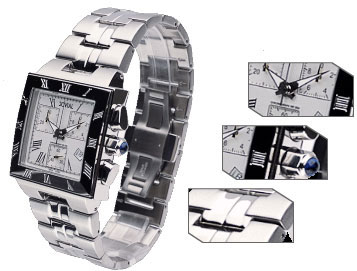 its climax in the sand and turned the work of many companies that manufacture watches. But foolishly fond of his work watchmaker Fernand Drots dared to fiercely bold move: he founded a new company to produce watches under the brand name Jovial. Time has proven him right. Perhaps the key to success lies in the name of the company Jovial, which are synonymous with the words joy and schaste.Na early details for the assembly of watches made in their own workshops in the small Swiss town of La Chaux-de-Fonds, and in subsequent years output has become more mechanized. The company has opened small workshops, each of which specializes in the production of specific details. In 1946, the company settled in the town of Biel and placed there his workshops. At the new place and the company renamed the name was Jovial Montres SA. One of the fundamentally important advantages of the company's ability to quickly adapt to new conditions of functioning of the market and find the right solutions. Elegant, luxurious and high quality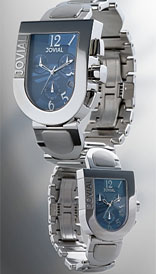 models of this brand are worthy of success in Europe, Africa, Australia and the CIS. Our shop Jovial possible by ordering them on the official website of the company which shows the details of distributors, as well as a shop specializing in the sale hours.
Models Company issued in limited quantities. Collections differ from the original designs in the introduction of modern materials used in building hours. Collection of women's watches Beatrix, Flora, Korado made from expensive raw materials: white, yellow and pink gold. To create the straps used skin strange animals.
In an era of high technology for its 80th anniversary the company released the Planet Beatrix, combining style and Fashion Hi-tech. Body of the model has two versions - pink gold and silver-plated steel. Chronograph is based on the mechanism of the Swiss Ronda 5030D, equipped with indicators of time: hours, minutes, seconds, date. Rose gold bezel is encrusted with 112 diamonds on me. On the winding head 12 inserted into diamonds. Dial black carbon fiber inlaid with 120 diamonds st. Sapphire crystal covers the dial chronograph. In creating the bracelet used rubber black with snap lock. Water-resistant watch is up to 100 meters.
Another novelty for the anniversary - clock made in luxurious shades of classic tones of chocolate shokolada.Cheredovanie fit into the specified schema: indicators of an hour, made of gold, in black, screw - in tones of milk chocolate, and the winding head - in shades of white chocolate . Bezel set in a polygonal form of chocolate. Chronograph features a quartz movement Ronda 715, sapphire crystal and screw-down crown. Water-resistant to 100 meters. The dial has a PVD-coating and the inner side effect 3D.Na chronograph inscription «Limited Edition 80 years». Breath-taking design and parts quality are consistent with the company slogan "It's another world."