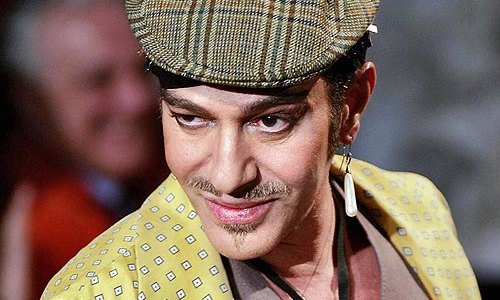 John Galliano (John Galliano) - one of the legislators of the modern fashion. His justly was called the king of outrageous and avant-garde. He began his career with the release of a line of women's clothing. The name of Galliano, "thundered" in the fashion world after the presentation of the first collection in 1994, 2 years after he became director of the French fashion house Christian Dior. In addition, the designer produces clothing and accessories under its own name. Opening with its unique "handwriting" were presented to the general public relatively recently - in 2009. Their presentation was held at the World Exhibition watches and jewelry at BaselWorld. The exhibition includes models, developed in conjunction with Morellato SpA Hours Galliano stand bold and unusual design, enhancing the corporate identity of their creator, and reflects his personality.
Fashionable, stylish brand watches are made in bright colors, in harmony with the brilliance of precious stones. Non-standard form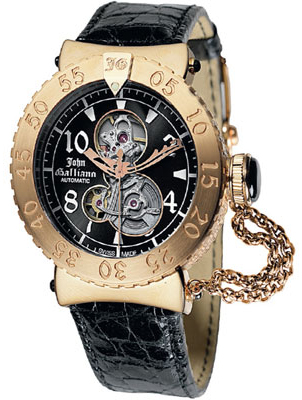 of minute and seconds hands and a chain with a cap that protects the crown and imparts to the watches "effect of antiquity" - the hallmark of watches Galliano. A leather strap and elegant bracelets make the models the works of jewelry art. Galliano watchbands are made of alligator, snake and stingray leather. All models are made of stainless steel or rose gold, decorated in a graphical form, striking perfect lines. Meters are equipped with brand Swiss movements, their water resistance - from 50 to 100 meters.
Wrist watches Galliano designed in a variety of designs: the classic model with Arabic or Roman numeric indexes, avant-garde watch, the dial indicators are time-reversed.
Watchmakers of the company were able to unite in their creations innovative technology to watch the beauty and elegance of a true masterpiece of watchmaking. In addition to the watch brand also produces a pocket watch.
In 2010, the range of hours received the collection of John Galliano Iconist Galliano. Ceramic bezel and diamonds are abundant decoration dominated the new series. Non-standard form of the case - a distinctive feature of this collection. Models are equipped with Iconist Galliano Swiss quartz movement Ronda. Case and bracelet are decorated with ceramic elements. Some models are encrusted with diamonds.

Wrist watches John Galliano took 2 years to gain a foothold in the segment of fashion watches. This once again demonstrates the versatility of the talent of their creator. Extravagant designer four times was named best British designer (British Designer of the Year 1987, 1994, 1995 and 1997). In 1998 he won the prestigious Council of Fashion Designers of USA (CFDA) CFDA International Award, in 2001 received the Order of the British Empire, and in late 2008 he was awarded France's highest award - the Legion of Honor.