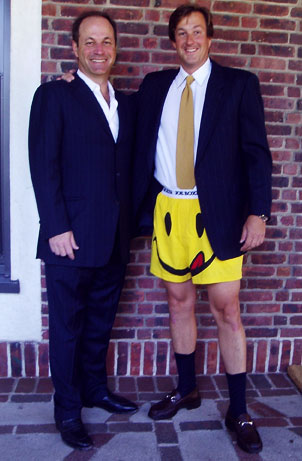 The American company Joe Boxer,
founded by Nicholas Gray, a leading manufacturer of lingerie. Along with high quality products the company produces bizarre watches at low price. In 2005 the company went bankrupt and was taken over by the intermediary company Iconix. But Nicholas Gray left the company as a consultant. As a result of these developments brand products fell sharply in price and are now just $ 10 you can become the owner of unpretentious, but unique watches.
The company produces watches with unusual, original dials. For example, the dials on the range line, dedicated to animal subjects, display a boxer dog breed. Go to the corps of models of stainless steel attached with leather straps of different colors. In the assembly of watches are used quartz movements.
But the male wrist watch model from Joe Boxer is based on a quartz movement, complicated by the analog and digital capabilities. The model is equipped with a chronograph function, alarm and date aperture. In stainless steel case is harmoniously integrated brown leather strap.
Made in bright red colors colorful model Red Indiglo embodiment cheerful philosophy. Watches in unisex fit crimson face, adorned with bright yellow smiley faces, symbolizing the brand's logo. Scarlet embossed plastic strap attach small bridges.
Buying watches from Joe Boxer is possible in online stores, as well as in specialized boutiques that sell jewelry.