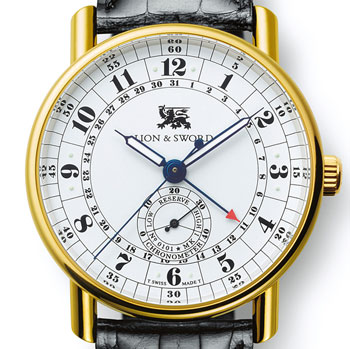 Jetzer Et Fils company was founded by Rolf Dzhetserom who since childhood has been fascinated by wrist watches and collected them. Love to watch inspired by Rolf on creating his own watch company, which produced watches of different unique design and high quality materials. The first model released by Jetzer Et Fils in 1994, was «MK I», which struck with its original design of the case, bezel and dial. Wrist watches «MK I» were handmade in limited edition - 67 copies made from yellow or white gold, and some watch parts were made of platinum. The model was sold immediately. Encouraged by this success, Rolf decided to continue producing original watches. His goal was to create models with innovative designs. At the same time they should be available.
Following the model of «MK I» was released watch model «Bel-Air», «Mk II» and «Les Etoiles», with a unique design, equipped with a stopwatch function. Founder Rolf Jetzer Et Fils Dzhetser produces original models in limited quantities for collectors who appreciate their high quality and exclusive design. Watches feature large dials for which are used precious metals. All watches from Jetzer Et Fils have only mechanical mechanisms.
Interestingly the company logo, filled in the form of a lion and a sword. They symbolize the nature of these exclusive watches.
Jetzer Et Fils models combines the best traditions of watchmaking and simple, but elegant design. Powerful watch cases are made of yellow, white or red 18-karat gold, covered with sapphire crystals, resistant to scratches. Transparent back is made of sapphire glass, you can enjoy the work of the movement. The crown of watches made of stainless steel and decorated with the company's logo. Models' hands are made of different materials: steel, nickel, brass or gold. Watches «Mk II» are equipped with five hands, the model «Les Etoiles» features four , and «Bel-Air» - three. Straps are made of genuine leather, folding clasp - made of yellow or white 18-karat gold.
All models of Jetzer Et Fils feature exclusive movements Frédéric Piguet, which are collected in Switzerland, in factory, located at the foot of the Jura mountains. The mechanical self-winding watches guarantee Jetzer Et Fils accuracy and reliability. The movement of Frédéric Piguet has caliber 9640 with power reserve of 44 hours, with decorated rotor. Every detail is carefully processed and ready-made movement is being tested for accuracy.
«Bel-Air» - the model is equipped with a mechanical movement of LS-2 (Fréderic Piguet caliber 9640) with a power reserve of 44 hours. The case is made of yellow, white or red 18-karat gold and has sapphire glass. White dial features three-hands. The strap is made of brown alligator leather. There is also another model with blue dial and black leather strap. Water resistant - 3 ATM.
«Mk II» - with five hands. Besides the basic functions of hours and minutes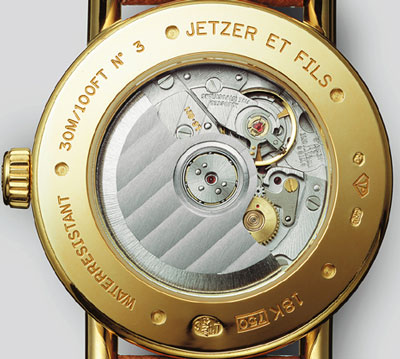 on a dial are marked the date indicator and power reserve, which are shown by hands. Watch cases are made of yellow, white or red gold, black or white dials are covered by sapphire crystal. Straps are made of genuine leather in black. There is also another version of the model with the green belt. The model is equipped with the movement LS-2 (Fréderic Piguet caliber 9640).
«Les Etoiles» - female models, aredecorated with diamonds, sapphires, emeralds or rubies. Watch case is made of yellow, red or white gold, glass - Sapphire. Limited series models features Roman numerals and four hands. At 3:00 is the position of power reserve, and at 9 - an indicator of a second hand. Straps are made of alligator skin. Watches are available with black or green leather straps.
Swiss watches Jetzer Et Fils meet all the watch industry. They are exclusive, by discreet but unique design. High quality materials and reliable mechanical movements, which are equipped with clock Jetzer Et Fils, are prized by collectors. Working on every model, Rolf tries to create exclusive watches, to reach perfection. All models are available in limited quantities and have their serial numbers.
Buying watches Jetzer Et Fils is available through authorized dealers.