Swiss watches made by the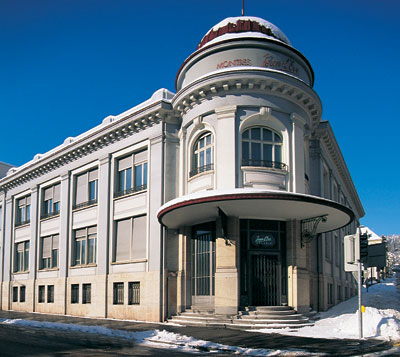 Jean d'Eve brand are one of the most reliable, original and stylish. In 1888, the talented young watchmaker Charles Barbezieux founded a watch factory called Barbezat-Baillot in the city of Le Locle (Switzerland). Charles introduced new innovations in his producing. Charles's production were sold under the Le Phare name. He invented the noise regulator. Watches made by him were quality and received top awards and recognition. Le Phare won 3 gold medals: in 1889 at the Great Universal Exhibition in Paris, in 1896 at the National Exhibition in Geneva and in 1906. In 1897 he made a quiet "regulator" which became a true technological marvel. At that time the company's staff was 200 people. In 1900, at the Great Exhibition in Paris the Le Phare factory was awarded with the gold medal for this invention. In 1905, the Barbezat-Baillot company changed its name to Le Phare. In 1915 the factory was requisitioned by the Swiss army to produce the front-line equipment. Watch production resumed after the end of the war. The company's specialization was the production of complicated watches: wristwatches of sophisticated design, chronographs and watches with a date indication. The company expanded and had to move from Le Locle to La Chaux-de-Fonds.
In 1960, the company decided to produce unique lines on order of perfume companies and famous fashion designers. Such strategy helped the company to survive during the crisis.
In 1970 the Le Phare company set the second place in the production of chronographs in Switzerland.
In 1981 the Jean d'Eve watch brand was presented by the Le Phare company. In 1984 Jean d'Eve and Le Phare merged into one company called Le Phare Jean d'Eve SA. In the same year, at the Basel, an exhibition of jewelry and watches, the new company conducted the first worldwide presentation of its new model. The brand gained popularity around the world thanks to technical innovations and artistic design of this model.
Technical and aesthetic innovations combine in the collection of Sector. This crescent-shaped watch, due to the vertical non-traditional, under 120 degree angle reading time, have become classics of design. This collection, produced at the Jean d'Eve factory, one of the most popular ones of this brand. Next years, while remaining committed to the artistic image and creating new collections, the Jean d'Eve company strengthened its position in the watch industry.
The Airport collection of wrist watches is intended for travellers. These watches have a 5 time zones indicator, with the help of which you can read time on 5 continents at the same time.
In 1987, at the Fair of jewelry and watches in Basel the brand presented a unique collection of watches called Up Side Down. Their buckle, unusually situated, joined the case what made watches easy to use.
In 1988, to its 100th anniversary the Le Phare Jean d'Eve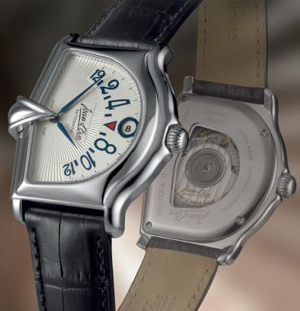 company presented the revolutionary collection of Samara including the first quartz watches without a battery. These watches were equipped with the Generotor system allowing to transform kinetic energy going from a hand movement into electrical energy. Now this system has 20 international patents. The development of the system lasted 4 years. The smallest generator in the world is a multipolar microgenerator. With the help of the generator energy is transferred to the condenser where collects. As a result, a watch can be in a fixed position within 10 days. In 1989 the Samara collection was made in different versions and sold in Milan, Geneva, Dubai, Hong Kong, Tokyo and New York.
In 1991 the company presented the Anteis collection, design of which was brought from the columns of ancient Greece and combined a riot of colours and Hellenistic classicism.
The Quarta collection, presented in 1993, was created according the production traditions of exclusive models, which were resumed by the Jean d'Eve company's skillful and talented masters inspired by the Sector collection. They created a special system consisting of 4 hands, located in each corner of the dial, showing the time.
In the end of the 90s the company produces the following models: Amalina, Felina, Sektana and Doug.
In 2000, the company released the Sector 2000 watch that combine restraint, strength and originality.
The Tourbillon Classic collection was introduced at the BaselWorld exhibition in 2010.
Jean d'Eve watches are popular all over the world and combine unique movements and original design.
The company's motto, "show the exact time ... but always go ahead of it", inspires the masters who create true masterpieces.