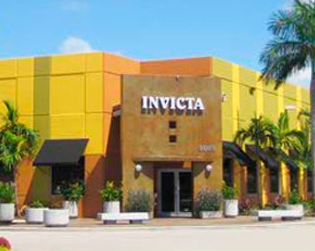 Invicta wrist watches are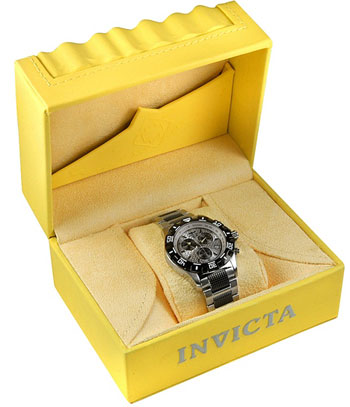 subtle taste, sophisticated design and high quality, characteristic of many Swiss brands. But Invicta brand is peculiar. It produces unique, distinctive from other brands' pieces – classic women's and men's watches of superb quality for affordable prices. To support the produce, a recognizable image was created – a black puppy with wings behind his back and a watch on the neck-strap.
Invicta watch brand was created in 1837. The company was founded by Raphael Picard, who set up a small business, based on a small watch shop, that belonged to his family. The company was founded in La Chaux-de-Fonds (Switzerland). Some years later it became popular all over Europe. It was promoted not only by its watches' original design and highest quality, but also by the company's name – "Invicta", which means "Unbeatable" in Latin.
Invicta company had been flourishing till the 70-s and it had been headed by Ralph family members. But the 70-s quartz crisis withered the company's activity and it was sold to Americans, who revived the production of the brand's watches, that became popular all over the world, in 1991. The new owners moved all active assets to USA and started a marketing campaign. As a result, Invicta watches became one of the most popular watch brand in USA and Canada. The renewed model lineup, the high quality, the Swiss movements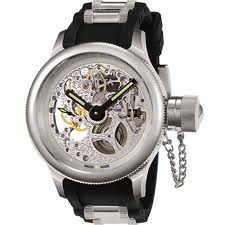 and the affordable prices made the brand very successful. Soon the company's owners decided to move the watch production back to Switzerland, but the headquarters was left in USA. Invicta brand started conquering the European and the Asian markets. You can buy an Invicta watch at different countries' watch shops.
Nowadays Invicta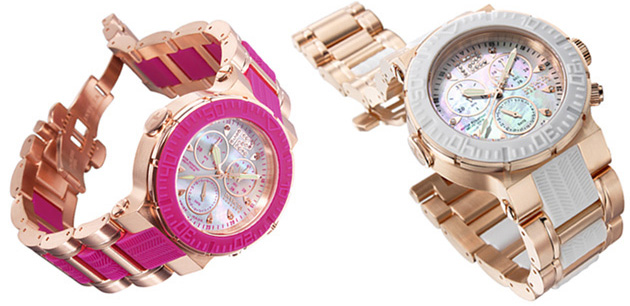 company elaborates 10 independent watch lines. The brand produces the following series: "Potger-Pietri", "Pastorelli", "Activa", "S. Coifman", "Cacciato & Joss", "Brizo", and the most popular "Russian Diver" and "Lupah" series.
The Lupah watches were produced thanks to the company's American owners, who decided to renew the watch model lineup. Original designer solutions were used to create the watches with bright leather straps and original dials. Lupah watches possess stylish design and perfect quality.
The Russian Diver watches are popular since 1959, when the Soviet government ordered a batch of these watches for military divers. But the watches were mistakenly produced with the "ÈÌÔ" engraving instead of "ÂÌÔ". The modern "ProDiver" watches are produced with the same engraving. The watch is supplied with a massive steel case, a thick strap, bright luminous hands and a super-sustainable crown protection system. The watch is water resistant up to 100 metres.
Invicta brand's watch models are high quality, exclusive and affordable.