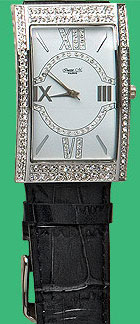 Company's history Inesse M. Is connected with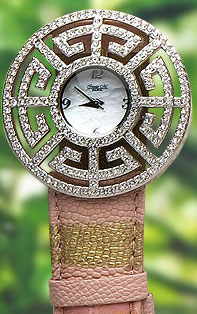 Daniel Swarovski who in 1891 created a special machine for cutting and polishing crystals. With this machine crystals could be cut with unprecedented accuracy. That allowed Daniel create his own little company to manufacture products made from this material, the imitating precious stones, first of all - diamonds. He also developed a method of cooking crystal, resulting in a clear and beautiful crystals. The company was named after its founder - Swarovski, who later began working with the brand Inesse M. from Paris, that was romoting products Swarovski in Europe. Company inesse M., engaged in manufacturing jewelry, decorated their products with Swarovski crystals.
Due to a bold design ideas, quality and accessibility, original jewelry from Inesse M. dominate the market to this day .
Producing female wrist watches Inesse M. brand started recently. The company's designers managed to combine in watch quality and sophistication of shining crystals Swarovski. Fine watches offered by Inesse M., combine the reliable quartz movement and unique design. In the manufacturing of watches was used gold-plated steel, rhodium. Shells and bracelets are adorned with artificial diamonds. No one model of Inesse M. does not contain nickel-plated parts. Jewelry and watches of this brand are hypoallergenic.
The brand many times changed the image of their products, while striving to keep up, but rather anticipate trends in modern fashion. The company has released a new collection under another brand - Inesse M. Elite. Cases of exclusive watches, issued under a new name, are covered with 18-carat gold or rhodium. Models are decorated with Swarovski crystals or artificial pearls and feature Swiss quartz movements.
Jewelry and watches of Inesse M. Elite have unique appearance, luster of Swarovski crystals and unique artificial pearls. Designers and craftsmen of Inesse M. managed to penetrate into the secrets of this beautiful harmony. Strict and elite watches in classic style, reminiscent mood pacified the rest, shine and radiance of 17-18-th centuries, the classical cascade of twinkling jewels and glitter of artificial diamonds, the combination of classical and philosophically-dreamy view of life, an alliance of taste and functionality, a combination of major Arab or Roman numerals and comfortable straps - here's how to characterize watches Inesse M.
The company creates a luxurious collection under the motto: "We want to make a woman beautiful, elegant and unique."