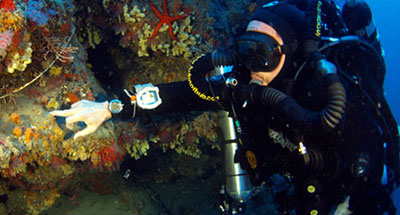 "Immersion" company's mission is producing innovative technology pieces for divers, freedivers, hunting and spearfishing lovers, for men, in whose life water sports take a special place, for you, rich and bright life lovers. The Italian Immersion wrist watches are for active lifestyle followers.
Immersion design studio is situated in Turin, Italy. A team of designers cooperates with diving experts, diving consultants; divers' comfort and requirements are in the first place for the company, that's why Immersion is constantly holding new researches and elaborations. All Immersion wrist watches are equipped with Swiss or Japanese production movements. Immersion watches are a symbol of water sports enthusiasm, exciting with impressions, that have ever been available for man. Immersion's absolute leadership in diver watch segment is reached by meticulous innovative technological elaborations.
The water world nature is always in Immersion company's focus of attention, that's why it characterizes its everyday work criteria as follows:
 Life starts under water.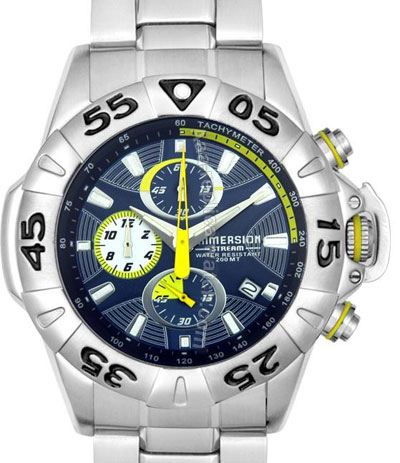  We are divers.
 Made for sea.
All Immersion watches are designed for usage under water and have waterproof construction. Immersion has a wide model lineup and each direction has its own waterproof construction specifics, represented by different allowed diving depths.
The main Immersion lines can be classified in the following way: "Diving", "Pro Diving", "Made for sea", "Military", "Spearfishing", "Freediving", "Boating", "Sea tour", "Hunting".
Each Italian watch line has its own specifics in accordance with its purpose. For example, the "Challenger 6891" model is a multifunctional computer-watch. The Challenger 6891 from the Spearfishing line is made for spearfishing and has a double backup movement with 2 diving modes: "Diving" and "Freediving". The watch has an automatic backlight at a 90° wrist turn, automatic backlight at ascent, an ascent speed indicator, a "dive-ascent" indicator, an ascent speed exceed indicator at immersion. Challenger 6891 also has a log-book for 50 dives with the record of full information about the dive procedure. The dial is protected with a scratch-resistant mineral crystal. The watch is supplied with some auxiliary functions, such as an alarm and a chronograph.
The "H2O Professional 6741I" model is made individually, with it's owner's name and a license number written down on the dial.
In general, the H2O line is hand-assembled in the company's laboratory. This line is an ideal backup variant for your dive computer, as all dive parameters are on the same display.
In one word, if you need a watch you can rely on not only in your everyday life, but even under water, then the Italian Immersion watches are designed for you.