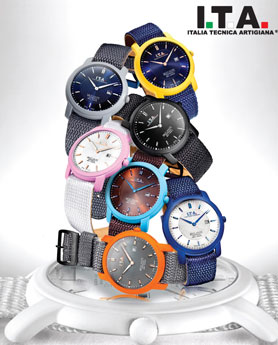 The Italian I.T.A. (Italia Tecnica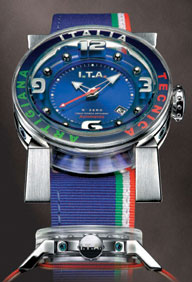 Artigiana) watch company is an innovative company, that offers new technical and aesthetic solutions in creating wrist watches. The company is considered one of the best in Italy. Using high-tech materials and technologies allows to create surprisingly aesthetic images. Every step of the watch production process is thoroughly controlled. All Italian watches from I.T.A. are a unique and stylish alternative for traditional watches. The watches are made of high quality materials: gold, steel, plastics and carbon. The combinations of these materials create a daring and contrasting "silhouette".
The company's collection contains sports, business, everyday and classic models. The brand produces both men's and women's wrist watches.
The Italian watches' design persistently shows cheerfulness and an abundance of colours. These wrist watches are Italian in the highest meaning of this word.
The watches' cases have a round shape. The brand's Italian watches' peculiarity are the exaggerated hour indexes, executed in 3D style.