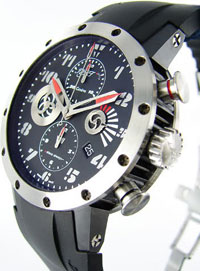 "The one, who is moved by passion, is taken over by it". These words of the famous French philosopher, Marcel Pagnol, became an inspiration for creating Instruments et Mesures du Temps (I&MT) watch brand. This "ambitious" watch brand was founded in 2005 and settled down to a course of creating exclusive, innovative models, distinctive for their genuine Swiss precision, at once. I&MT watch company is the fruit of labour of passionate cars and speed lovers, and collectors-aesthetes, who are always in search for new flawless movements. In order to bring their creative ideas to life, they involved the legendary watch craftsman, Christophe Golay, specializing in extremely precise measuring instruments' and expensive watches' production, in their business. As a result of this legendary expert's hard work, the first limited edition I&MT collection, including 22 pieces, made of steel and 22 pieces of rose gold, saw the light of day. Namely this significant event in the brand's history can be considered its foundation. Each model of the collection, executed solely by hand, is a "personified" and unique piece. The name of this perfect chronograph's owner is written on the power reserve indicator, supplementing the watch's "personified" image.
I&MT watches also got the role of the "time-breaker". A 31-year old Swiss adventure-seeker, Xavier Rosset spent 300 days on an inhabitant island of Tofua, where he tried to survive, fully isolated from civilization for 300 days. At his arrival on the island namely an I&MT watch was buried by Rosset as a sign of the full resign from the swift-flowing time.
Nowadays I&MT watch brand is developing rapidly and improving continuously, joining the ranks of its admirers. I&MT brand's philosophy is creating inimitable and individual models, made to gladden and delight their happy owners.