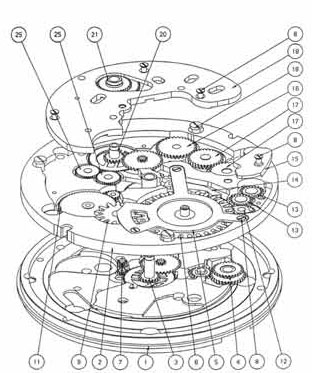 The foundation of the young Horae watch company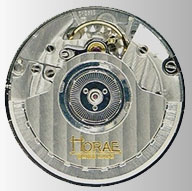 is dated to 2004. The company specializes in the production of classic mechanical watches, released in limited editions. Each model is assembled by hand. The company does not make watch movements. Taking into consideration the fact, that the old classical movements are not produced nowadays, the company tries to find and buys them from the other firms.
To make the movements similar to the modern multifunctional ones, the watchmakers equip them with numerous complications and characteristics. Each watch collection of Horae company is released in the limited edition. At the same time the watches have their unique and individual features. The best chasers are working on the case decoration. The company is constantly looking for the most skilled watchmakers and artists of genius.
For example, the original design of Horae Alarm, a wrist watch with an alarm function, reminds us of the classical vintage style of 1960s and 1970s. The collection includes the models, presented in a new interpretation and with a modern design. The watches are based on the mechanical Swiss movements with manual winding. As it is very difficult to find such movements, the company has obtained only 200 items. Thus, this collection consists of 200 models,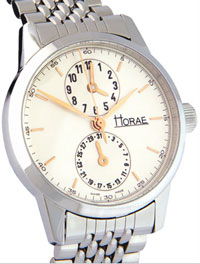 and it is divided into a series of 10 watches.
The company watchmakers equipped Horae Dual Time and Horae Calendar watches with a modified automatic ETA 2892 movement of a high quality. The movement is equipped with a module, that has been developed specifically for the watch brand.
The thickness of the movement 2892 is reduced with the help of gears, located in the modified gear train. And a module, developed by the company is fastened to the plate 2892. As the time module is quite thin, and the upper part of the plate is reduced, the movement is just one millimeter thicker.
The time module has much more gears and mechanical elements, than the original movement 2892. This complicated and efficient module enables the winding and the installation of time positions with the help of 11 extra gears, that send the power from the central wheel to the dual time module for controlling the location of the watch hands. During the movement installation a large number of gears were used, they help to avoid the gasp while the dual time showing.
Horae Dual Time watch are able to indicate 11 time zones. For the easy time reading, the dial is equipped with two independent displays, showing two different time zones. The watch case is made of stainless steel with the sapphire crystal exhibition back. The dial is protected with the sapphire crystal with anti-reflective coating. The time module is decorated by Cotes de Geneve. The strap is made of genuine leather.
You can buy Horae watches through the distribution network presented on the company official website.