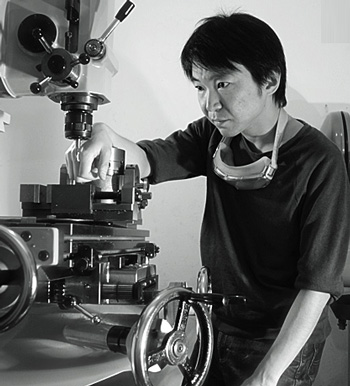 Japanese is known with its manufacturer of wristwatches and watch movements. Such companies as Seiko, Casio, Citizen are known to world market with its perfect models of wristwatches and movements. Though, besides these world manufacturer there are independent watchmakers, who develop exclusive watches. One of such watchmaker is Hajime Asaoka, who opened his watch manufacture not long ago and produced original watches under his own brand.
The interest to wristwatches Asaoka began to show in school years, when father presented him first watch. That was automatic chronograph Citizen. That times watch market was full of quartz watches, though Asaoka was interested in automatic watches, which inspired him to make his own models. Asaoka finished the university of art in Tokyo. As he says, "I studied not just design of different products, but also how to make different things". Besides the studying Hajime read a lot, learning secrets of horology. Asaoka considers George Daniels to be his teacher.
His workshop Hajime Asaoka opened not long ago, and all his knowledge and skills about watches embodied in exclusive model called Tourbillon. As Asaoka is a designer firstly, he payed great attention on appearance of watches. Just one look and you can see originality of these watches. Perfect design in combination with high quality is watches Tourbillon from Japanese independent watchmaker Hajime Asaoka.
It is clear that Japanese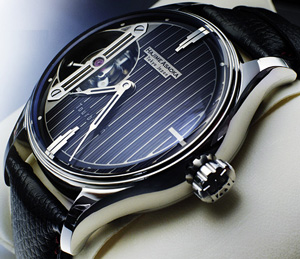 designer and watchmaker is not the first and the last who presented watches with tourbillon to the world. But like all masters he experimented, making tourbillon from one piece of steel. Steel tourbillon has one strap in the middle and corner parts from different sides. At first sight nothing hard, but for getting such masterpiece you need some elements, every of which polished by hands, what give them unique appearance and natural shine. General design of watches is made in Art deco style. Round polished steel case with diameter of 42 mm and thickness 14,8 mm includes three-dimensional dial, having vertical structure. There are added indexes on the dial on 12, 3 and 6 and perfect tourbillon near hour marker 9. Powerful crown is situated at the position of 3 hours. In the central part of the dial there are hours and minute hands. Black dial is protected with sapphire crystal. Model is complemented with leather strap with steel clasp. Exclusive model is equipped with movement T1001 with hand winding, vph – 18 000, power reserve – 40 hours. Movement is collected on 17 stones, and general number of details are 96.
Watches Tourbillon present kind of expression of technique and industrial design.