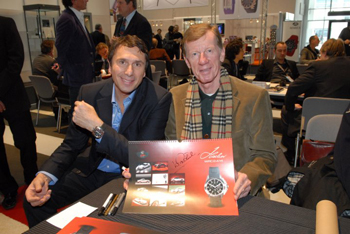 Hacher watch company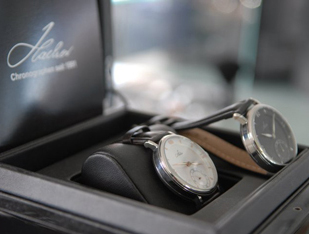 was founded in Germany in 1991 by Jurgen Gertsberger.
The history of the watch brand began in 1988 after the purchasing of leather strap from Sinn company, located in Frankfurt. One of Helmut Sinn mechanical chronographs immediately attracted Gertsberger's attention. So, Gertsberger made up his mind to to create the same watch. And in 1991 Gertsberger's company released the first Hacher watch collection, which was sold to collectors, greatly touched by the watches' style and quality. Then the exclusive collections of "Kickers Offenbach", "Borussia Dortmund" and "Porsche Clubs" were released.
In April 2002, the company's headquarters was moved to the city of Offenbach, located on the bank of the Main river.
In August 2009, Walter Röhrl became the representative of the Hacher company. He is a German rally and auto racing driver, with victories for Fiat, Opel, Lancia and Audi as well as Porsche, Ford, and BMW.
In 2010, the watch brand released a collection that included 5 chronographs, equipped with reliable Swiss Valjoux 7750-25 caliber. In February of that year, a limited edition of 301 chronographs was produced in collaboration with Walter Röhrl specially for fans and collectors.
Hacher watch brand produces high-quality watches in very limited editions. According to the company's founder, watchmakers are working hard on every chronograph. This is the fact, that explains the limited numbers of company's watches. As a result, the company releases exclusive, unique chronographs, equipped with Swiss ETA-Valjoux movements, for ensuring the reliability and accuracy.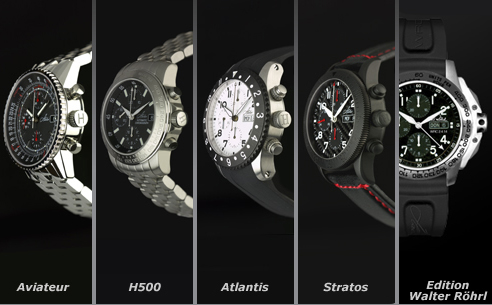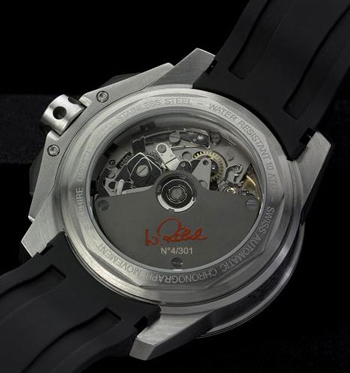 "Aviateur" is a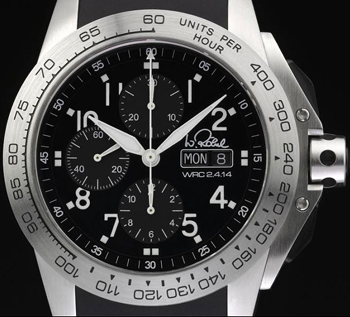 wrist watch made of stainless steel, the watch glass is sapphire crystal. The chronographs are equipped with ETA mechanisms — Valjoux 7750, the power reserve is 42 hours. There are dials of different colors: black, silver and blue. The collection includes models with leather straps and steel bracelets. The chronographs' water resistance is up to 3 bars (30 m).
"H500" collection includes chronographs with cases made of steel, glasses are sapphire crystal. There are models, that come either with leather straps or with steel bracelets. The water resistance is up to 5 bars (50 m). The wrist watches are equipped with ETA movements - Valjoux7750.
"Atlantis" are the watches with stainless steel cases, sapphire glasses, the water resistance is about 5 bars (50 m), the power reserve is 42 hours. The watches are equipped with GMT function.
"Stratos" collection includes the watches with polished stainless steel case, the dials of which are covered with sapphire crystal. The watches are water resistant up to 5 bars (50 m). "Edition Walter Röhrl" is the collection, released in collaboration with Walter Röhrl. Light and clear dials, stainless steel cases, sapphire crystal with anti-reflective treatment features these chronographs. The rotor is made of tungsten. There is Walter Röhrl's signature on the case back of every model. The watch company offers a CD with a documentary film about Walter Röhrl, that is sold with all watches of this collection.
You can buy Hacher wrist watches in many countries all around the world, also you can order them online.