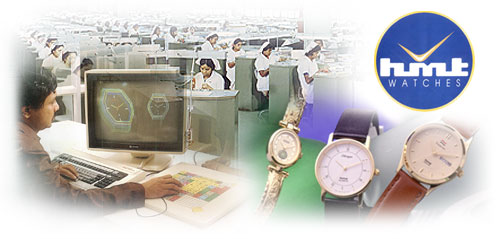 The foundation of Indian HMT Limited company is dated to 1953. The brand has originally specialized in the production of machine tools and printing presses. Since 1962, HMT has been also producing the wrist watches. The company manufactures more than 7 million of quartz and mechanical watches annually.
Excel, Rajat, Kajal, Kalinga, Prakhruti, Subhash are the mechanical HMT watches.
Rajat watch is made of the high quality stainless steel and equipped with the caliber 6500, produced within the company. The silver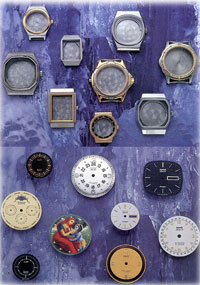 indexes are in a contrast with the white dial, the date aperture is located at "3:00". The goldish dial of Kajal watch is bordered with the black anodized aluminum case, in which the company's caliber 6500 is housed.
All other mechanical watches are made of gold-plated stainless steel.
The quartz watch collection includes the following models: Elegance, Roman, Utsav, Sangam, Lalit, Pace, Swarna, Shreyas, Chandan, Braile. Among the quartz watches there are the most prominent models, such as Lalit twin watches. These watches were created to emphasize the spiritual relationship between a man and a woman. The watches have an identical design and differ from each other only in size.
Freedom wrist watch is one of the exclusive HMT watches. The "memorable" watch was created to celebrate the 50th anniversary of the Independence of India. These timepieces were released in a limited edition.
The brand also produces Braille watches, the special models for the weak-eyed persons. Thanks to the mobile watch glass, one can "read" the time by touch.
HMT Limited company has been cooperating with thirty well-known international engineering companies for many years. During the watch production, HMT company uses only the high quality materials, that is why the brand's products satisfy all the requirements of the modern watch industry. You can buy HMT watch at the official dealers.