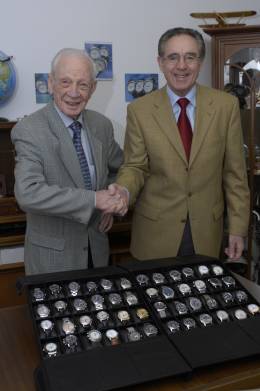 Guinand watch company was founded in 1865 by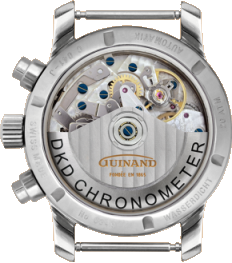 brothers Julian Alcides Guinand and Charles Leon Guinand in Le - Brenedse in a small town on the border between France and Switzerland in the Jura mountains. In those years in this little town has grown the number of enterprises. Guinand company engaged in the production and sale of pocket watches, which are sold mainly in Germany. The company quickly began to prosper. In the late 70s of the 19th century, presented its brand of watches in the U.S. market. In 1881, Leon Guinand, who was a brilliant watchmaker, has released the first chronograph, after which he decided to specialize in chronographs - to produce a product which, even after many years, will testify about the company's exclusive and unique quality. Issued in those years chronograph not only helped the company overcome the crisis of the time, but also the pride of "surviving" to these days.
In what Leon has released such complicated watch, chronograph minute counter and split - chronograph. In the late 19th century the company was known as Guinand brand, producing complicated watches. Leon has released about 1,900 chronograph, equipped with a tachometer. In 1910, the brand has released the first wrist chronographs.
In 1945, the company began managing the son of Leon Guinanda, Georges - Henri Guinand, after which the company began the production of watches under another name «Guinand Watch Co. S.A. ». The company began producing mechanical watches, however, during the quartz crisis 70th of the last century brand has survived, thanks to complicated chronographs.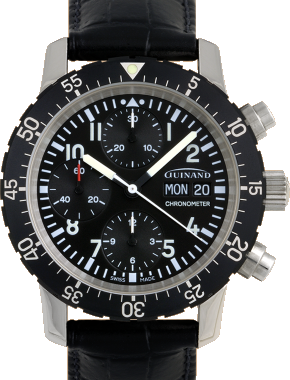 Company Guinand has a rich assortment of pocket and wrist watches that are made from high quality materials and are equipped with reliable Swiss movements.
"WZU-5" are exclusive watches with LED in 5 time zones. Case and buckle of models are made of stainless steel, sapphire crystal, strap is made of alligator. There are also other options for watches with a steel bracelet. Water resistant is up to 50bar, model is equipped with a Swiss movement HS 81 WZ owned production in 2003. Movement is built by 18 stones, power reserve are 40 hours, the oscillation frequency of 18,000 per hour.
«31.HS-21" - the original watch in the classical style, equipped with a movement of manufactory HS 81 to 18 jewels, 18,800 vph, power reserve of 40 hours. Watch case is made of polished stainless steel, domed sapphire crystal, strap is made of an alligator. Guilloche dial on a blue hour indices are made in white. Water resistant of watches is up to 10bar. You can buy watches «31.HS-21" for 1430 euros.
«70.50 LL» is original chronograph, case, crown and buttons are made of stainless steel, sapphire crystal. The model is equipped with a rotating bezel. The dial is covered with luminescent coating. Watches are equipped with a Swiss ETA Valjoux 7750 movement for 25 stones, with a frequency of 28,800 vph. Water resistant of watches is up to 10bar.
You can buy brand watches Guinand, by ordering them on the official website of the company.