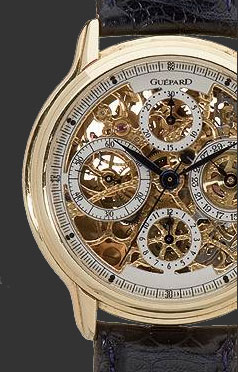 The company GueparD S.A was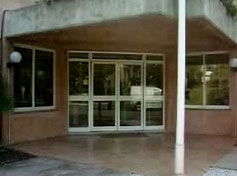 founded in 1967 in Frieburg (Switzerland). Brand produces expensive watch and jeweleries with original design solutions. Since 1991 in list of production there are leather products, shawls and ties. In 1996 GueparD S.A. began to produce their own perfume line.
Watches GuepardD performed in accordance with all standards and criteria of quality Swiss watches. The company's designers are not afraid to experiment, and therefore brand products are not maintained in any particular style, and versatile. Watchcase conspicuous non-standard forms of avant-garde. Brand products are made from high quality materials: gold, stainless steel, sapphire crystal, precious stones for the inlay. In watchmaking they use innovative technology. The brand has released the following collections: Tersa, Mechanical Prestig, Griffon, Dynasty, Retroswiss, Eden, Time Round, Yatching Club, Regency, Topaze, Time Square, Genius Gentry, Sister Brands, Prestigious.
A collection of sports watches Retroswiss allocated case interior diameter of 43 mm. Models are available in several versions, made of stainless steel, 18K white or rose gold. They are provided with a movement ETA. Temporary indexes on the black dial negated, power reserve indicator is located at around 6:00, retrograde indicators (minutes, seconds, hours) are in bright color artwork. Strap models available in two versions - from calfskin or alligator. Water resistant is up to a depth of 50bar. These measures of time are ideal for active lifestyles with a sense of style and elegance.
Ladies watches GUEPARD profusely inlaid with diamonds and many precious stones.
Luxury model GueparD Eden Flower decorated 114 diamonds and 50 blue and 46 rose sapphires. From the luxury look hard to tear.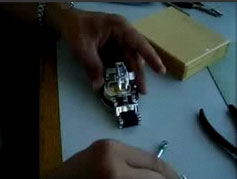 The dial is protected by a high-quality sapphire glass. On the back cover - and engraved individual number. This elegant bracelet is encrusted with diamonds.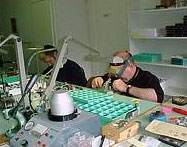 Water resistant is up to 30bar of laboratory GueparD S.A. Hurly Burly - another watches GueparD S.A women's watches from the collection of Prestigious. The original model is striking patterns rotating on the dial. Pattern represented by 14 rotating circles of 266 diamonds. Watch indices are replaced by 12 black diamonds, polished steel case is decorated with 642 diamonds yet. This watch - a real treasure. The model is equipped with a quartz movement Ronda 762. Black strap watch is made of alligator skin.
This brand is not just be happy the female by its original expensive watch in unconventional design interpretation.
You can buy GueparD watch in the salons of authorized dealers.