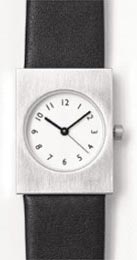 The Spanish watch company Grus was founded in 1991 by a group of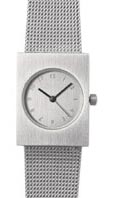 professionals from Barcelona. Stylish avant-garde design of watches have passed scrutiny movement components make the model of the brand in perfect and reliable products of modern watchmaking.
Since 1994 the company Grus became to use stainless steel to create cases. The models are based on high-quality quartz movement. Straps are made of heat-resistant rubber, developed in a factory of the brand. Heat-resistant rubber was used for the first time by the company Grus. It is characterized by several advantages: they are easy to wash, you can even bleach, they superstable to UV, seawater and chlorinated pool water. Rubber is anti-allergic and is 100% in harmony with the environment.
The exclusive design of the strap follows the ergonomics of the wrist, and improved with system of fasteners is very easy to use. Rubbers are available in three color versions: white, yellow and white.
Designed in a minimalist style pearl white dial contrasts with the black arrows. Temporary indices met with Arabic numerals. The elegant rectangular case is the epitome of the traditional classicism.
You can buy watch of the company in a shop specializing in the sale of jewelry and fashion jewelry.