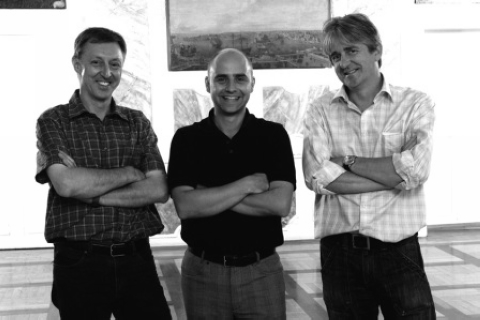 Grieb & Benzinger - a German company that is known for its creations in skeletonized and guilloche watches. The founders of this brand are German watchmakers Jochen Benzinger and German Grieb. It should be noted that Benzinger and his partner George Bartkovyak for many years produced watches for brands such as IWC, Faberge, Chronoswiss, Tourneau.
The company Grieb & Benzinger is in an old castle in southern Germany. This is where craftsmen create stunning, luxury watches, which are based on complex movements of the old great masters of the 1880-1920 years. (Vacheron Constantin, Patek Philippe, Lange & Sohne). They completely restore a complex movement and ennobling it with the classic technologies - skeletonized, guilloche engraving, and hand and covered with blue platinum. The workshop is equipped with special technologies and old instruments, like Technical Museum, where the complex movements become exclusive masterpieces.
Watches from Grieb & Benzinger - a work of art.
"Blue Wave" - openworked chronograph issued in a single piece. These watches are equipped with one button movement 20s Minerva, which placed in the case of 18-karat rose gold.
"Blue Sensation" - luxury watch - the only Split-Skeleton Chronograph Regulator on the watch market.
"Russian Imperator" - the basis of this masterpiece laid the watch work of the late 19th century - during the reign of Nicholas II, as well as the artist Wassily Kandinsky and the work of the famous jeweler Carl Faberge. They have inspired artists to create watches of "Russian Imperator". The movement is fully skeletonized, the base fee has platinum blue finish. Strap color dark blue hand and the emblem of "double eagle" are covered in yellow gold. Case is also in yellow gold.
"Grieb & Benzinger Platinum Minute Repeater" - these watches are equipped with a movement Patek Philippe minute repeater, which has been created for a jewelry company Tiffany. Case diameter is 49 mm, and skeletonized sterling silver dial with Breguet Frost Finish allows you to see the movement. Leather in dark blue, it's no accident. In 1911, the painter Wassily Kandinsky was founded association "Blue Rider". The members of this association was considered the personification of blue mystery. This idea fits into the concept of model "Russian Imperator".
Watches of the company "Grieb & Benzinger" - this is the rare masterpieces that can tell you all about its owners.