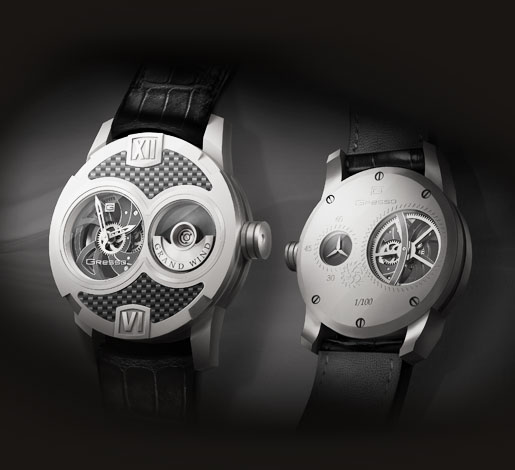 Company Gresso produce exclusive high-tech devices (phones, watches, accessories). Gresso company was founded in 2005 and officially registered in Switzerland.
In 2007, the Gresso created its first collection - an intellectual luxury-phone Avantgarde, in the case of the 200-year-old African Blackwood. Forbes magazine has included Gresso Avantgarde in the 10 most expensive mobile phones of the year. In 2008, the collections of USB Flash Drive Enigma and Pandora. Enigma is the world's first flash card to the volume of 192Gb. Pandora is luxury unit with a scanner to access the fingerprint. Cases of collections are made of 200-year-old African Blackwood, decorated with a scattering of colored diamonds in a setting of 18K yellow or white gold.
In 2009, Gresso, inspired by the sophisticated Swiss watches, skeleton, has released a collection of phones Avantgarde Skeleton, rear panel which is made of transparent sapphire crystal, which allows the device to discern the phone.
In 2010, the company Gresso was presented the most expensive phone in the world-Luxor Las Vegas Jakpot, released just in triplicate. Price phone - 1 million dollars. Phone is made of gold inlaid with 18K and black diamonds to 45.5, the keyboard is made of sapphire. In the same year before the phone-Luxor World Time was made in the best traditions of Swiss watchmaking. In the back of the phone built-in movements to six time showing the time in the five business centers around the world: Tokyo, Moscow, Paris, London and New York.
Gresso company provides the opportunity to participate in the creative process of creating a phone. Takes into account the individual wishes of customers when choosing a combination of parts of the phone.
Debut is a collection of watches - Gresso Grand Wind Skeleton. Wind is in tune with the term "self-winding». Watches are available in white and pink gold, also made of steel with a black DLC-coated (diamond-like-carbon). The rotor is made of gold is 18K on the dial, and that the company Gresso created its own automatic caliber Gresso G1, based on ETA 2671 wrist watch for Grand Wind Skeleton. In developing a movement of watches participated ACHI member Konstantin Chaykin. Power reserve is 38 hours. On the watch dial is insertion of black carbon. Functions: hours and minutes and seconds on the back of the case. In addition to the window with a "propeller" - pointer seconds on the back cover of the case there is a second window through which you can observe the work of the movement. All parts of the watch movement are polished by hand and covered with gold. Water-resistant is up to 10bar. Strap of Gresso Grand Wind Skeleton watches is made of alligator skin.