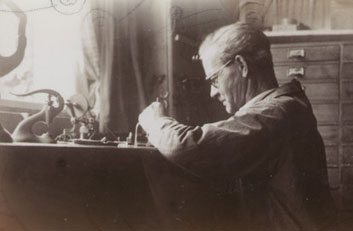 Times change, but the values remain unchanged. Swiss watch is a true work of art that preserves their value at all times, due to high manufacturing quality and exquisite design. Swiss watch brand Grenacher was founded in the last century by Marc Victor Cachelin. In the middle of 20th century work of a family business has been temporarily suspended, but the great-grandson of the founder of the company revived the family, "undertaking", giving it a new name - Grenacher Geneve. Watch brands at a glance affect the flight of designer fantasies. Brand launches jewelry watches, designed for a perfect half of those classic watch - stylish and elegant for both men and sports chronographs for those who can not imagine the life without extreme and adrenaline.
Models of Grenacher Geneve Czarevitch Ref P1623 / 1 released in limited edition numbered and represented by 70 pieces. Watches are characterized by strict minimalist design, made in classic style that eludes the passage of time: a circular enclosure made of platinum is harmoniously integrated alligator strap blue or black, white dial with Roman numeric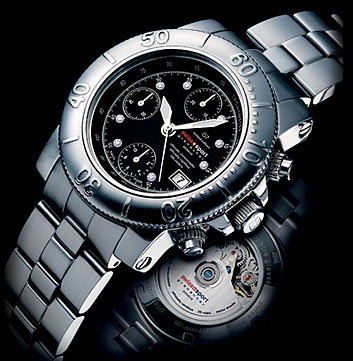 index and protected with a sapphire crystal. Watch is equipped with chronograph function: a 12-hour is located at positions 3 hours 30 minutes - at 9 o'clock and date display - at around 6. These models are also available with a platinum bracelet. Water resistant is up to 50 meters.
Watch brand has released several models with the same design, made of 18K yellow gold-Ref G1623 / 1, Ref G1623 / 2, Ref G1623 / 3, Ref G1623 / 4, Ref G1623 / 5 (movement with automatic winding, water-resistant - up to 50 meters) and Ref S1623 / 1, S1623 / 2, S1623 / 3, S1623 / 4, S1623 / 5 (Quartz movement, water resistant to 30 meters).
No less is known collection Grenacher Smiling Diamonds, jewelry watches presented. Case is numbered in limited edition models which are made from 2005 Ref 18K yellow gold, decorated with 393 white diamonds and 6 sapphires. The dial is completely decorated with precious stones and is protected by a sapphire crystal with anti-reflective coating. Watch is complemented by a blue alligator strap. Watch water resistant is up to 30 bar. The entire series Grenacher Smiling Diamonds are encrusted with diamonds and other precious stones, thongs available in a wide range of colors - blue, green, pink, red.
Sports chronographs Grenacher Geneve were «born" when the sport "meets" with luxury. These models are made of stainless steel straps can be easily changed and are available in different colors, making them easy to "adapt" to the corresponding case. You can buy Grenacher Geneve watches in the shops of official dealers.