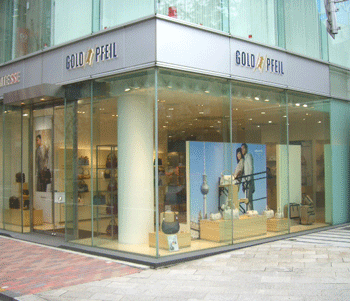 Goldpfeil company is a renowned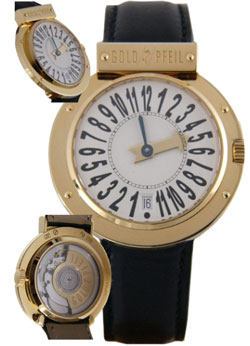 manufacturer of leather. This German company has found widespread throughout Europe and Asia. In 2000 the company joined seven independent watchmakers to create unique watches under Goldpfeil. Initially it was assumed that each watchmaker to design their model wristwatch, introducing the company Goldpfeil joined the producers of chronometers. The plan was to sell the seven models with an auction at quite a high price. In 2001, these models were presented, each of which combines the flavor and design of the inventor. For example, the model of The Goldpfeil Watches Seven Masters, presented by renowned artist Antoine Preziuso, is unusual in its designer's incarnation: the watch looks like they are made entirely of leather. The case of this model is made of 18 - karat gold, and brown strap - calfskin. Watch is equipped with an automatic movement. The dial is protected by durable sapphire crystal. These watches are waterproof to 166 feet. You can buy watches of this model for just $ 14,000.
Also quite remarkable model called Pupitre Watch. Cycle time of this watch is presented in a rather unusual form of midnight shows at the bottom of the dial, and noon - at the top. In addition, it is the only watch in the world, in which the hour hand is longer than minutes. Orange alligator strap in perfect harmony with the case of 18 - karat gold. The dial with gold indexes and Arabic hour hand is protected by durable sapphire crystal. Date aperture is located at position 6:00. The watch provides automatic with a rotor made of gold (21C), and platinum.
Wristwatches Goldpfeil - this is certainly a worthy purchase, which you will never regret. Watches Goldpfeil produced in very limited instances, much increases their value and uniqueness.