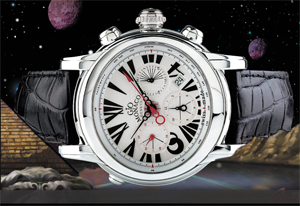 Impeccable taste and technical perfection - these are the watch work of company Gio Monaco.
Watch company Gio Monaco is a very unusual watch brand, which, despite its youth, managed to win general recognition. The company was founded in 2004 in Italy, the brothers Giuseppe and Michelle Astsione. Giuseppe is responsible for the design of watches, and Michelle for the creation of a watchmaking. Brand is named after the creator of musical notation by Guido Monaco (997-1050).
Originally the company was stationed in Italy, but two years later the watch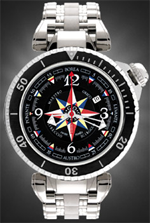 was transferred to Switzerland.
The company's founders are positioning their products for the high middle class people. It is designed for people who prefer traditional watches a status exclusive models. This watch is not for everyone, not in terms of pricing, "category", a design decision.
Currently, the arsenal of the company has thirty collections of watches. It offers a wide range of watch models from Luxury to SUW (sport utility watch). During making of watches they preferred the classical style, which, however, is modified through bold experimentation with forms, colors and materials. Brothers can do it with consummate skill. In watches are harmoniously synthesized designs and specifications - design solutions tailored to the specifications and vice versa. This style of work echoes the "musical" philosophy of the company: over time, it must be in tune with the rhythm of its tune.
The number of model Gio Monaco present male and female watches, mechanical and quartz. Watches are equipped with movements for ETA and Ronda. Watch cases are made of gold or stainless steel with PVD coating. The dials are covered with sapphire crystal. Alligator straps or steel bracelets. Water-resistant of some models can reach up to 20bar. Different models are "burdened" by various functions.
Opening of the company enjoyed great success in the U.S., Europe and the Middle East.