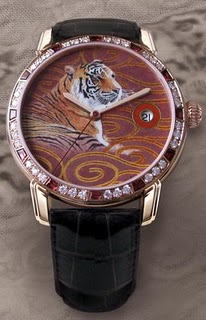 Swiss watch brand Gebson was founded in 2007 by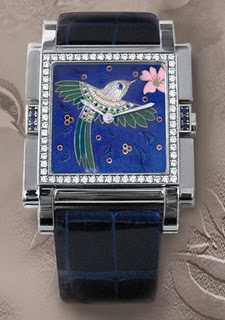 Geb Group, based in Neuchâtel (Switzerland). Establish their own independent brand was necessary because the founders of Geb Group received many orders from collectors for the manufacture of exclusive watches. The company's goal is to produce an exclusive unique watches that feels best skill of watchmakers and the magical power of hands of masters.
The first collection of watches was inspired by Chinese culture, and released in 2009. Male model from a collection of «Sky and Earth» amazes everyone with its original design solution. Watches with the image on the dials of a dragon or a tiger, symbolizes strength and power. Dragon is depicted on the dial by crossing traditional notched enamel and miniature painting of Chinese. The dial is decorated with a golden dragon, who is on a red enamel and a symbol of the sun. The body is made of 18 carat yellow gold and bezel decorated with diamonds and rubies. There is another version of the model, a white dragon on a blue dial, bezel is set with diamonds and sapphires. Ladies of the line «Imagination and inspiration» decorated with Phoenix or other soaring small bird . Case of female models is made of 18 carat white gold, dial - enamel blue or red colors, and engraved by hand, bezel adorned with diamonds. The birds depicted on the dial are fully decorated with diamonds. According to the designers who were selected strong animals to express masculine strength and feminine elegance and tenderness shown underlined on the dial of women's watches birds. All models have automatic Swiss movements to ensure the accuracy and reliability. Models produced limited edition of 8 pieces.
Watches of Gebson are full philosophy, they represent the "Heaven and Earth", due to the brand, merging East and West. The company's designers strive to produce unique patterns that will become clear confirmation of good taste.
You can buy watches of Gebson company by ordering them on the official website of the Swiss company.