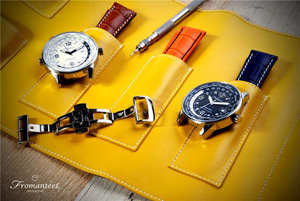 Holland company Fromanteel was founded in the 17th century by watchmaker Ahasuerus Fromanteel in the Netherlands. Genius watchmaker made a "revolution" in the history of watchmaking, creating a "floor" watches, equipped with a pendulum. Pendulum movement was invented by physicist Huygens in 1657, but to realize the project of creation of a pendulum clock was destined to Fromanteel. He developed a completely new design of the watch designed specifically for the pendulum movement. The main material for the watches cases is a wood. Accuracy 'floor' watches increased by several times, appeared on the dial of the minute hand. Designed by Fromanteel watches were sold wealthy merchants, the Dutch and British royal families. They attracted considerable attention: an increased interest in production was primarily due to the excellent accuracy of the order of time. The company's founder gradually expands the producing of watches, opening new offices in London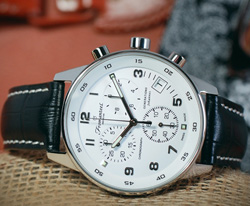 and other cities. Overseas factories of the company were headed by Ahazeurus sons. Nowadays, Holland watch brand Fromanteel specializes in manufacturing men's wristwatches. All brand collection released in limited pieces. Models which are made by Fromanteel have strictly classical style. Round dials in black or white color with raised numerical index covered with mineral crystal, case is made of stainless steel strap - leather louisiana alligator or calf leather.
Collection watches called JOHANNES has 3276 pieces, of which half with white dial and the rest - with the black. A series of watches named after the eldest son of company founder Johannes Fromanteel.
Brand has released another two lines of watches - VINTAGE1607 and TIMEMACHINE. Watches called TIMEMACHINE characterized additional features chronograph and tachometer, and models are equipped with the function VINTAGE1607 GMT (World Time).
Holland watches Fromanteel manufactured in Switzerland and meet the highest standards of quality.