A well-known Italian company Frankstone recently, along with elegant jewelry, began to produce unique watches, using rare rocks, which are the basis for the dial.
A new collection of watches from The Wellness Watch Frankstone embodies the concept of the ancient dualism, which in itself is a feature of the concept of "time". The constant over time is mixed with the energy generated by crystals, and as a result is converted into a harmonious fusion of two identical to each other forces. Design models based on the harmonious combination of Italian creativity and creative depth knowledge of the ancient cultures of Africa and Asia.
Rocks were selected by a special system. Energy potential of each crystal is associated with one of the seven chakras of force to coordinate the human body. Each chakra corresponds to each rock. For model collection the company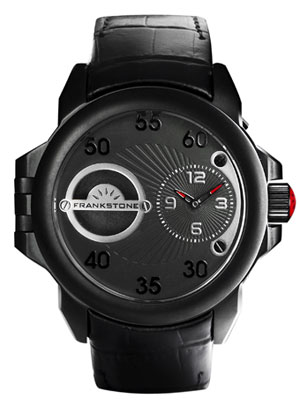 uses a number of amethyst, rose quartz, tiger eye, red jasper, hematite, jade green and sadolit. Based on the fact that the crystals absorb the energy of the environment and can transmit it to its owner, they are treated and cleaned by a special technology. Cleaning crystals is accomplished in several ways: they are placed in boiling water and leave for several minutes, washed with sea water and left to dry in the sun, leave for 24 hours in a container with sea salt or mold, and the crystal energy land charges activity flora sun and the moon.
The rocks of green, blue and purple tones are charged at night in the moonlight, and transparent types of rocks purple and pink tones - from the sun.
The lines of Energy Chrono, Energy, Mind Travel, Soul Way, Soul Way Glam consist of watch models designed for high-quality quartz movement. Extensive case has diameter of 47 mm and made of stainless steel. Guilloche dials equipped with little windows that allow to observe the celestial beauty of mountain crystals below it. The dials are protected by sapphire crystall with anti-reflective coating. Harmoniously integrated into the body of the straps are made of leather in various colors.
The company's products fill a niche of low-end, but this quality does not detract from its merits, but rather makes the watches of Frankstone more attractive. And as soon as an opportunity to buy a watch of Frankstone company appears, use it. But it is necessary to choose a model with the crystal that best fit your horoscope. With proper choice of energy emanating from the crystal, and its owner will be in eternal harmony with themselves and with the outside world.