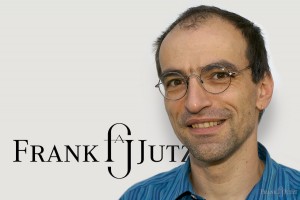 Frank Jutzi is an independent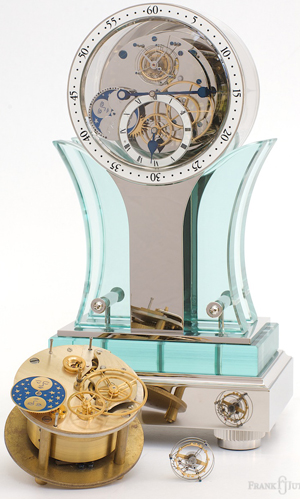 watchmaker, the member of AHCI, the creator of table clock and wristwatches. Frank is one of the watchmakers who prefer watches with tourbillon. All his models whether it is table clock or wristwatches equipped with open tourbillon which makes a perfect view.
Frank's workshop is situated in Wichtrach, between Bern and Tun, in Switzerland. Here a unique and exclusive models are created, which submitted many people with its cute view. In collections of the brand there are models with moon phase indicator, second time zone, skeletonized watches and models with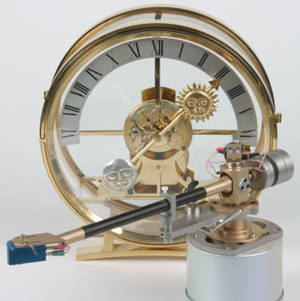 tourbillon.
Watches Frank Jutzi presented in round cases made of 18-karat white gold, stainless steel. Dials are made of silver, enamel, guilloched by hand. Models with moon phase indicator, the indicator situated at the position of 10 hours, second time zone indicator at the position of 2 hours and little second hand at the position of 6 hours. Dials are protected by sapphire crystal. Back cases of watches are transparent, through which you can see the work of movement. Models are complemented with leather straps of different shades. Watches with moon phase indicator produced in limited edition-40 pieces.
The next model from Frank Jutzi collection is skeletonized watch, case is made of stainless steel. Skeletonized dial is equipped with two hands. Model is equipped with automatic movement ETA 2892A2, which work you can see through sapphire crystal.
The last model from collection of independent watchmaker Frank Jutzi is model with tourbillon. The dial of watch is a round area, in which situated small dial at the position of 12 hours and tourbillon at the position of 6 hours. Original design solution, which will be appreciated by collectors and connoisseurs of wristwatches. Small dials are equipped with Arabic or Roman numerals, two hands. There are several variants of the model. There is engraved serial number and signature by hand on the dials. Original watches are complimented with leather straps of different colors. Models are equipped with movements which produce in China.
Collection of Frank Jutzi is rich with elegant table clocks with tourbillon or moon phase indicator. Exclusive models will become inseparable part of collection for those who value the quality and individual design.