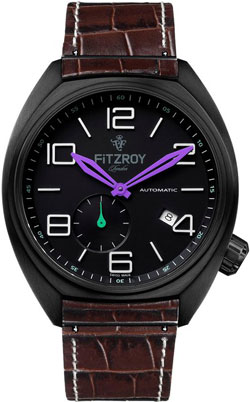 Is rather young watch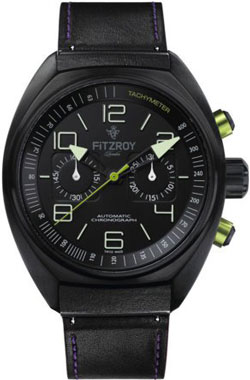 company which was founded in London. It also should be mentioned that for any watch company the place of its foundation is very important, because the region's traditions becomes the tradition of a new brand. As it is known, Swiss watch companies, which was founded in Swiss towns are rich with old customs and traditions, so it goes without saying that Fitzroy is not an exception. It is not a secret that London is full of traditions and its history is very rich, so it is clear what a huge influence it made on Fitzroy company.
Fitzroy is an independent watch brand, which makes watch models which combine an innovative design and mastery of the leading watch-makers. The models created by the company incarnate the real London spirit. Despite this fact that this company's name is rather old, the approach to watch-producing is rather modern. Every model of Fitzroy brand is supplied with Swiss movement and the best materials are used for case and element production. Fitzroy watch are chosen by people of different age because their original design and perfect appearance cant leave anybody indifferent.
As for the name of the company, it seems to be very interesting. Fitzroy comes from the name of the son of Heinrich VIII – Heinry Fitzroy, the 1st duke of Richmond and Somerset – an officially recognized extramarital son of the King of England Heinrich VIII and Elizabeth Blaunt. Despite his specific lineage Henry was considered as a possible heir of English Throne.
It goes without saying that extramarital sons of Kings could not heir the Throne. But they were rather rich and powerful figures persons in the country.
Fitzroy brand is a reflection of a bravado and an expansion confidence of some English Monarchs, who were the first who used this term.
The emblem of the brand is an image of two letters "F" which shows an adventure modernism and traditional heritage. A unique combination makes a real contrast between elegance and free modern styles which is reflected in Fitzroy deign.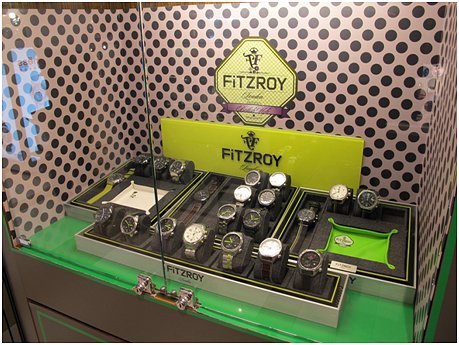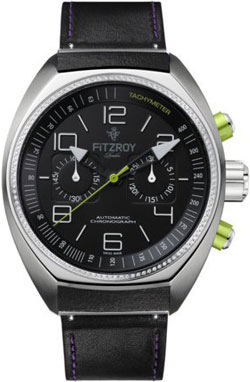 All Fitzroy models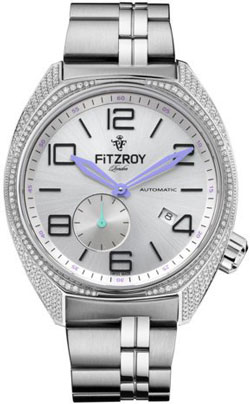 have classic cases – round, squared or oval made of stainless steel or anodized aluminum. Brand's collection consists of the basic models – chronographs and ordinary watches, supplied with small apertures for hands of seconds. Watches are made in different variations, which let anybody to chose a preferred model.
Watch models are supplied with black stylish straps of textile straps or steel bracelets.
White or black dials are supplied with big Arabian numerals and two or three skeletonized hands. Also, watches are supplied with one small hand of seconds at the position of "7 o'clock". Ordinary watch-models have also an aperture of date at the position of "4 o'clock".
Fitzroy chronographs are supplied with three hands and two counters at the position of "3 and 9 o'clock". The watch is protected by a sapphire crystal. The back side of all models is covered by sapphire crystal which lets to observe how the movement works. Ordinary models are supplied with Swiss automatic movement MF01. The power reserve of these models is 38 hours. There is a number of functions: hours, minutes detecting. The dial is supplied with a small hand of seconds, date indicator, so the chronographs are supplied with an automatic movement MF 02, which has 40 hours power reserve. There are also functions of hours, minutes, seconds. The model is also supplied with tachometer and chronograph.
In some watch collections made by Fitzroy there are diamond incrusted models. Original watches made by Fitzroy, thanks to their unique design can perfectly suit any classic or sport wear. Fitzroy watch can be bought at the official distributors of the brand.