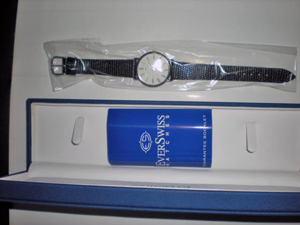 EverSwiss company, possessing an 80-years history and whose name has never appeared on covers of international magazines, started its expansion to the world's watch market in 1994, when it was presented by Rivoli Group (Dubai, UAE) distributor at the Eastern countries' market. The brand showed great sales, which depended much on the distributor (Rivoli Group is the owner of the biggest chronometers and fine jewelry retail chain in the Persian Gulf), at once. Despite the fierce competition in the "economy class" Swiss chronometers segment, EverSwiss soon became one of the sales leaders and nowadays has about 1/4 of the segment's sales turnover (in pieces). The brand's success is based mainly on the watches' high quality, its versatile work with assortment and also on attractive dials' usage and effective advertising campaigns. Soon the brand started quickly capturing other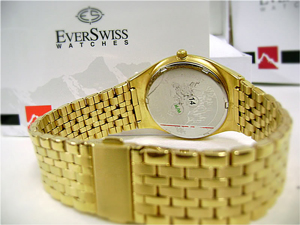 world's countries' markets, which led to a SwissMade class product creation, with an unprecedented price and quality correlation and classic design. The brand's name reflects its motto: "Ever Swiss quality for reasonable prices". All men's EverSwiss models are made of 316L stainless steel (the European Union's Nickel Free standard, indicating the absence of nickel in the steel). All watches are covered with IPG/PVD-coating, notable for its high durability, and equipped with high quality Swiss Ronda movements. Many women's models have rose gold coating, which is very durable and fade-resistant. EverSwiss company has over 100 base models and about 500 of their execution versions. The assortment is annually renewed with 50 models, which are renovated 4 times a year. The company also adjusts a special model line for every country and 4 models will be presented exclusively for Russia.
EverSwiss company captures the world's markets steadily and systematically, gaining its steady place in the segment between the inexpensive Japanese brands and the luxe-class Swiss ones. You can buy an EverSwiss watch at a retail price of $75-150.