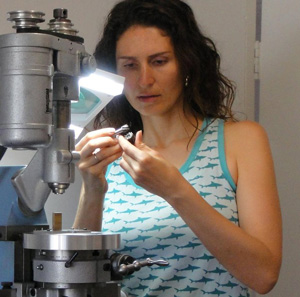 An AHCI (Académie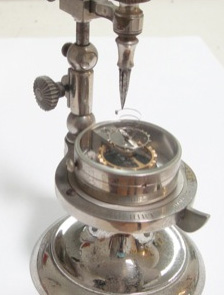 Horlogère des Créateurs Indépendants, Academy of Independent Watchmakers) candidate, Eva Leube was born in Berlin, Germany. She was 16, when she started studying watchmaking and hand assembling small beautiful wrist watches. In 1995, at the age of 23, Eva got a Master's degree in watchmaking at the university of Hildesheim, Germany. Eva is always in search for something new, continuing her studies of watchmaking and all movement details, even the smallest ones. Her watchmaking experience allowed her to get the name of a famous and best watchmaker not only in Germany, but also in Switzerland, USA, South Africa and Australia, where she lives nowadays. All these years Eva has been doing numerous wrist and pocket watches' repairs. Moreover, Eva used to be one of the best Rolex company's specialists. She has been studying and working at the Swiss Geneva company and at Rolex brand's service centre in Capetown (South Africa) and Sydney for 6 years.
After that she started elaborating solely handcrafted watches by order. These unique models with complicated movements have been occupying their places among watch collectors' and connoisseurs' collections since 2004. Eva has been simultaneously studying at Ulisse Nardin company, learning chronometers and complicated movements and producing watches together with the independent watchmaker, Thomas Prescher, till 2007. In 2007 Eve Leube returned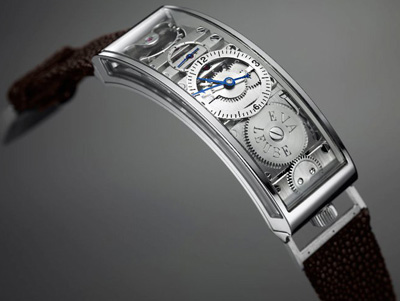 to Australia, to Manly, where she set up her own exclusive handcrafted wrist watches and any new unusual movements producing company.
The Australian independent Eva Leube company watch company has recently presented its first wrist watch model, called "Ari", that took 4 years to elaborate. The model was presented at the worldwide BaselWorld 2011 watch exhibition. The watch's crooked case, hand-engraved by a famous engraving craftsman, John W. Thompson, is made of 18-carat gold or 950 platinum. The case's length is 52,44 mm, its width is 21,6 mm, the thickness is 8,45 mm. The watch's screw-down crown is situated at the "6" position. The open 15-mm balance wheel is situated in the upper part of the dial, there's a seconds sub-dial under it, the main sub-dial with hours and minutes indication in the central part and a gearing wheel with "Eva Leube" engraving in the bottom part. All dials are made of 18-carat gold, the hands are made of burnished steel. The watches are supplied with 3 sapphire crystals with antireflective coating, installed on the dials on both sides of the cases. Ari watches are equipped with manual rewinding movements with the frequency of 18000 half-oscillations per hour and 40-hours power reserve. The movement consists of 209 details, it has 18 jewels.
An exclusive Ari watch will become an inseparable part of every watch collector's and connoisseur's collection.