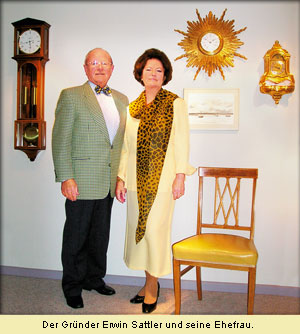 Erwin Sattler is a German watch brand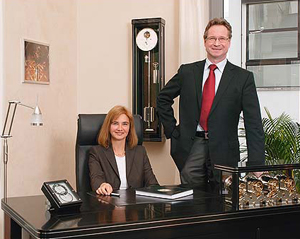 and it's motto is: "Traditions, precision, perfection". Erwin Sattler watch brand takes leading positions in interior (wall-mount, cabinet-type, floor standing) clock production. Erwin Sattler watch winders have been extremely popular lately. Erwin Sattler watches are a recognized sample of precision.
Multiple Sattler watch dynasty generations work at the brand's manufactory. The brand's founder is Heinrich Sattler. In 1903 he was presented with an "Emperor's patent" for the creation of a movement with an eternal calendar. Erwin Sattler continued his grandfather's business, devoting all his life to watchmaking development and innovations implementation. In 1958 Erwin Sattler set up his own watchmaking company – "Erwin Sattler Munchen".
At the mid-80s Erwin Sattler concentrated on new watch movements creation and the company's reins of government were taken over by his daughter, Stephanie Sattler-Rick, who turned it into a leading watch manufacture together with Richard Muller.
Erwin Sattler watch company created a unique research and development laboratory, supplied with high technology equipment to provide the clock's super-high quality and precision. All factors, influencing the movements' perfect work, are analyzed at the laboratory. The clock movements' details are made of quenched brass, gilded for corrosion protection. Usage of high quality materials, modern technologies and the clock movements' precision provide Erwin Sattler brand leadership in the sphere of interior clock production.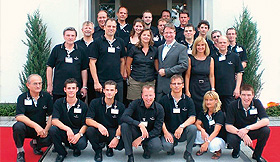 Rotalis II Erwin Sattler is a casket,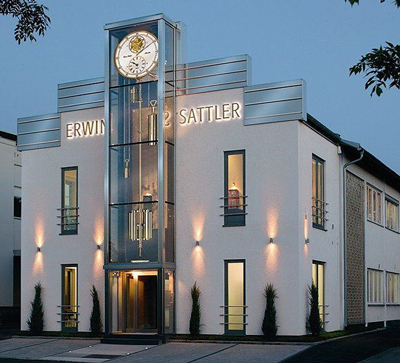 developed for expensive watch owners, with complicated functions, equipped with 2 compartments, supplied with movements with a complicated automatic watch rewinding program. Each Rotalis II compartment's individual programming enables you to tune the rewinding movement's rhythm and rotation direction in correspondence to the producer's specifications. Rotalis II provides the watch's continual movement, even when it's not on your wrist.
Classica Secunda 1995 is an Erwin Sattler high precision pendular clock with a 1-2 seconds per month accuracy movement and a 30-days power reserve. It has separate dials for the hour and minute hands. You can watch the movement's work through a carved aperture on the dial. The case is made of fine wood.
The Troja XVI clock closet is supplied with the Classica Secunda 1995 clock. Erwin Sattler clockmakers use thermo-compensating spirals, made of a special fusion (superinvar) to keep the temperature influence on the pendulum to a minimum. The clock is equipped with a barometer, showing atmosphere pressure. There are 16 instruments with watch rewinding functions inside. The rewinding devices are tuned manually or with the help of a computer, using a USB-port. The rewinding devices' panels are opened and closed with a remote control. The case's back part has a secret locker, which gave the clock cabinet its name, by an association with the Trojan horse. The clock cabinet's base features a safe deposit with an electronic lock, made of super-strong fusion. The safe deposit is ensured against burglary. If the robber breaks it open, Erwin Sattler will pay you an insurance compensation.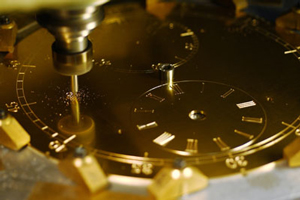 In 2010 Erwin Sattler brand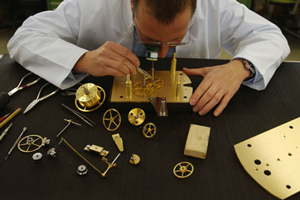 presented the first wrist watch, Regulateur Classica Secunda, which is a miniature copy of the super-precise pendular Classica Secunda 1985 clock. Erwin Sattler watches won the "best classic watch" title in Germany and Austria at once. The Regulateur Classica Secunda watch's dial is executed in the classic German regulatour style, the minute indication is carried out by the central hand and there are hour and seconds counters at the "6" and "12" positions. The Regulateur Nero Secunda model has a black dial. It is equipped with the Sattler-Kaliber ES 01 movement.
Thnks to their exclusiveness, perfection and high accuracy movement Erwin Sattler brand's watches are highly appreciated among collectors and watch art connoisseurs. Erwin Sattler brand's watches are produced in limited editions. The Sattler clock dynasty has been striving for excellence from one generation to another and it has been producing so high quality clocks, that their chosen owners have been handing those clocks down from one generation to another as family heirlooms.
You can buy an Erwin Sattler brand's watch at the company's official dealers' boutiques and showrooms all over the world.