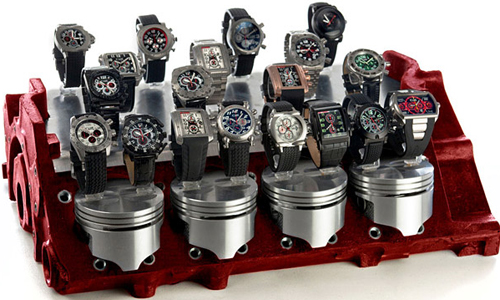 Equipe watch is an innovations and bold elegance embodiment. Equipe watches are based on Japanese quartz Miyota/Citizen movements. The company's history started in Detroit and soon the watch became famous in the world's watchmaking industry.
Equipe products were inspired by cars. The watches are made for those, whose passion is cars and who want to have their passion even on their wrists. That's why every Equipe model looks like some car part. For example, the Big Block E406 model from the "Gasket" line looks like a Mustang base cylinder. Some Equipe watches are even supplied with drives, just like cars.
Equipe watches are represented by the following collections: "Balljoint", "Big Block", "Bumper", "Chassis", "Dash", "Dash Xxl", "Gasket", "Grille", "Headlight", "Hemi", "Hub", "Octane", "Paddle", "Rollbar", "Spring".
The Cach Equipe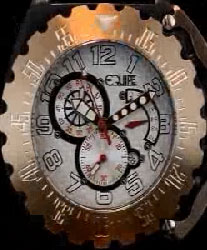 line models are car body-shaped, they are made os high quality surgical steel, based on the Japanese quartz Miyota/Citizen movement, equipped with a sealed mineral crystal, bright luminescent hands, the watch is water resistant up to 100 metres.
The Big Block E406 model from the Gasket line is a bold square-shaped chronograph, looking like the fastest cars', like Mustang, base cylinder gasket. The watch's dial is made of carbon.
One of Equipe company's latest marketing achievements was registration at "Du Pont": the famous collector, Barret-Jackson's car auction registry. Du Pont is a leading high level collectors' organization, offering a massive choice of rare, exotic and luxe-class cars. The Barret-Jackson auction is a Mecca for automobilists of any status.
For the exhibition Equipe company built a block, that looked like a garage, where engine parts and plungers were used.
For the first time Equipe watches were presented at the First Annual Supercar Meet at Orange County on July 25-27. Equipe auction presentation also took place in 2010/2011 season.