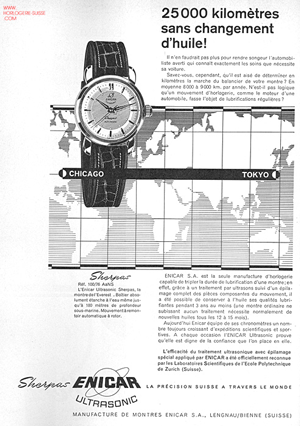 Enicar watchmaking brand,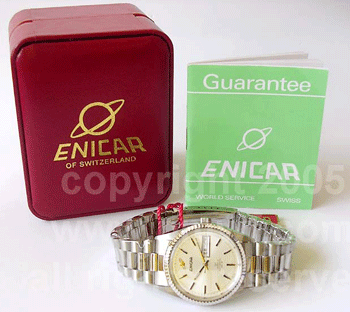 founded by Ariste Racine in Switzerland in 1854, is one of the first watch manufacturers in Swiss watchmaking industry. Soon after its foundation the company moved its plant to Lengnau and started specializing on water resistant and durable watch producing. In 1956 flawlessly made Enicar wrist watches of innovative design were chosen to be the official watch of the Swiss expedition, which conquered the world's highest summit – Mount Everest. In 1957 Enicar watch took part in Mayflower II's legendary cruise around the Atlantic. Enicar Ultrasonic Sherpas chronometer was placed on the ship's anchor to check its quality. It spent 50 days in the water. Alain Villiers, the ship's captain, said, that the watch passed all sea and land trials and continued showing precise time. Today the company continues producing this legendary model with stainless steel case and bracelet. The dial is covered with a sapphire glass.

In 1958 Stirling Moss, a British racer, and Ken Rosewall, an Australian tennis player, became the brand's representatives. In 1962 Enicar watch manufacturer satrted producing their own "Rubirotor" movements. It is used in all brand's watches and delivered to other watchmaking companies. In 1970 Enicar watch manufacturer became one of the first Swiss companies to start selling it's own brand's quartz watch. The Beta 21 movement was developed by a Swiss Centre Electronique Horloger (CEH) laboratory in 1967 and became the most precise quartz movement. Nowadays the company produces more, than 300 high quality quartz and mechanical wrist watch models, executed in modern design, and stays one of the world's biggest automatic watch manufacturers. You can find and buy Enicar watches at online stores or from the company's official dealers.
| | |
| --- | --- |
| | |