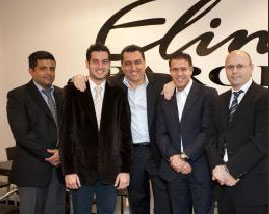 Elini, the Belgian watch company,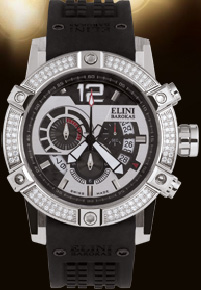 was founded in 1989 in Antwerp, a city, known as a large European center of the diamond trade. The company was launched by Nili and Nisso Barokas, who came from the family of jewellers. The brand began with the production of jewellery collections. Today the company's collection include over 20,000 different designs: bracelets, necklaces, earrings, pendants, brooches. All the products are manufactured within the company. The company employs about 700 talented craftsmen. All the products by Elini company are the true works of jewellery's art.
Since 2003, the company has been producing the wrist watches. Today Elini company has come to the fore in the global jewellery industry as well in the watchmaking business. Elini watches are distinguished by their multi-coloured design, and they can suit every clothes. The company is thoroughly watching over the latest tendencies of fashion. So, Elini watches are produced according to the trades in fashion. All Elini watches are developed in Switzerland and are powered by the ETA movements.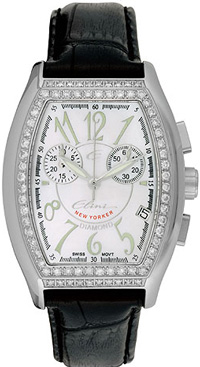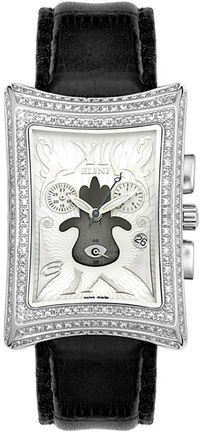 The sensational collection by Elini is New Yorker. These watches are preferred by Hollywood stars: Cuba Gooding, Andrien Brody, Jerry O'Connell, Joe Pantoliano, Cameron Diaz, Deryl Hannah.
New Yorker watches are presented in the classical style. They are powered by the Swiss movements with chronograph function. The case is made of stainless steel, the mother-of-pearl watch dial is covered by the crystal glass, the strap is produced from genuine leather. The watch is encrusted with 75 diamonds.
Another popular Elini collection is Nazar, released in 2004. all the models from this collection are characterized by some mystic elements. There is a four-leafed clover on the watch dial, symbolizing luck and success. There is a popular belief, that such a leaf is able to ward off evil spirits. Nazar Hamsa watch features a dial with a hand of Fatima (Christians call it a hand of Mary), it is a palm-shaped amulet, a symbol of life.
You can buy Elini watches from the official dealers of the company.