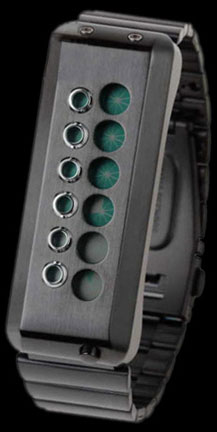 Japanese trade mark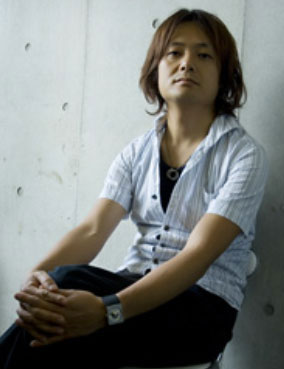 Eleeno was founded in 2008 by a talented designer Yasushi Kimura who was collaborating with Tokyoflash watch company for many years.
The company made it production in three main directions: Eleeno Cyber – model supplied with an LCD display and creative design, also there were Eleeno and Eleeno Lite - male and female models supplied with analogue indications of time.
Having transformed watching time into a small puzzle, the brand became popular and known for its unusual watches. To watch time in Eleeno watch it is not enough just to look at the watch, watch owner should posses an ability to decipher secret signs.
Here comes a list of watch-puzzles:
Eleeno Cyber – a "cyber watch" supplier with 12 mini-displays which are need for time watching. The time is shown at the small buttons at the left side of a case: every circle equal two hours. The buttons which are placed at the left panel are minute indexes: every circle is equal 10 minutes, every sector inside the circle is equal one minute. A blinking indicator of seconds is to the right and it coincides with the last minute circle.
At the place where the strap should be fixed, there are two buttons of time setting, micro-light and settings regime. The case is made of brass, covered with stainless steel alike coating. The watch is supplied with 18mm bracelet made of stainless steel.
Eleeno «EG3» - is a watch which show time in 12-hours format. Time indication is amazes by originality as usual.
LCD display is separated into 9 parts, in each part there are tree squared indicators. Three upper parts are separated into four sectors which indicate hours. Three parts located in the middle are separated into six parts and display minutes (10, 20, 30, 40, 50). The last three parts are divided into nine sectors for displaying the last ten minutes of an hour.
The case is made of high quality stainless steel. The model is supplied with adjustable rubber strap.
Eleeno «EG6» - is a model, which dial is divided into many squared parts, thanks which watch owner can watch the time. The upper part has 12 blocks which shows time in hours (every block is equal one hour), the central (big rectangles) shows tenth parts of a minute (five rectangles each of which is equal 10 minutes). The last block is divided into ten equal parts, displaying minutes which are not multiple of 10 (every block is equal 1 minute). The case of watch is coated by mat sputtering (mat steel like) and made of brass. The model is supplied with polyurethane strap.
Eleeno Stocking Watch – has an unusual time indication. For time displaying crossing circles in the dial are used. They play function of minute hands. Chromium-plated case is a good setting for an unusual dial, beautifully suiting the strap made of polyurethane. Thanks to the system of a fast strap changing, it can be substituted by a metal bracelet.
Eleeno «EG5» - has a bit easy to read indication system. On the dial there are three round-shape indicators of time: in the upper big round display (every segment is equal 1 hour). In the middle there is a round indicator of minutes (equal 10 minutes). At the bottom there is the last one dial, which is responsible for minutes which are not multiply of 10 (every segment is equal 1 minute).
For setting time and turning on the lightning the buttons at the side of the case are used.
The case is made of brass and is mat steel like coated. The strap is 20mm wide made of polyurethane (it is available in four colours: rose, light-blue, black or green). The colour of micro-light matches the color of straps.
Eleeno «Mystic» - is a "mystic" watch supplied with a "mystic" time indication. To watch the time, you should look fixedly at the black circles, appearing through the black mat glass. A big circle displays the time, a small one displays minutes.
The case is made of a polished steel. Dial is protected by mat mineral crystal. A 28mm strap is made of genuine leather.
Eleeno «Bingo» is also supplied with an original system of time indication. Hours are displayed in the outside radius of the dial, minutes are displayed in the inside radius. A watch has not only unique system of time displaying but also a very unusual design. 16 round indicators supplied with hour and minute marks are placed in a radius-like position at a black minimalistic dial. An originality of a dial is accompained with a thin case (8mm thick). A watch is decorated with a genuine leather strap 20 mm wide.