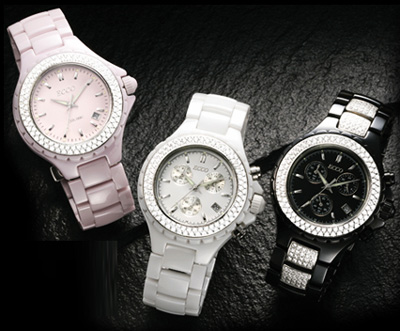 Ecco is a famous watch company, that has established a reputation as the producer of the high quality accessories and wrist watches. The South Korean Jinsung Watch Co company was founded in 1977 in Seoul and, it had been producing watches under this name till 1997. In this year the brand changed its name to Ecco Watch Co. Since 2001, one can observe Ecco watches at every watch exhibition all around the world.
The quality and design of Ecco watches does not yield to the products of other watch brands. They are fashion, quality and unusual models, that one can buy at rather an affordable price. Every watch connoisseur can find a watch to his/her liking. Ecco watches are characterized by the bright colours, extravagant design, they will underline the individuality of their owners.
The uniqueness and exclusivity of Ecco watches lies in the fact, that the material, used by the specialists for the watch production, is zirconium ceramics. This material is considered rather solid and reliable, like many other materials, used in the watch production. Some people associate ceramics with the fragile tableware. But it has neither part nor lot in Ecco watches. Zirconium ceramics protects watches from scratches and strokes. Besides, the watch brand pays a great attention to the ecological compatibility of its products, peculiar to most South Korean companies. The material, used by Ecco, is rather ecological and hypoallergenic,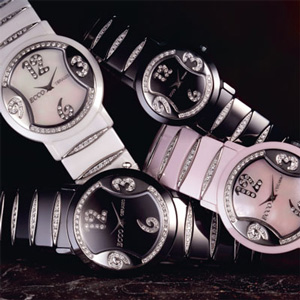 and it does not influence negatively on the human skin. Zirconium ceramics can be used for many years, it is scratch resistant. In spite of the fact, that it is rather solid material, it is light and comfortable to wear. But it also has a disadvantage: the hard material doesn't allow watchmakers to encrust watches with precious stones. However, the talented craftsmen from Ecco company have developed a special technology for the production of jewel-encrusted watches.
In addition to the materials, the company pays a great attention to the watch design. The unique design is the pride of Ecco company. Every model is refined, fine and delicate. The Ecco watch's zest is the pearl dial of the dark, almost black colour. It gives models the exclusive image. Besides, the company creates its watches, using the innovative techniques, such as ceramics coloration and colour mixing, that results in the wonderful patterns.
Ecco watches are powered by the quartz movements. The company collaborates with the leading Swiss watch brands, and equips its watches with Ronda and Isa movements. The collections consist of men's and women's wrist watches, that are characterized by different colours.
Ecco watches are distinguished by the high quality, unusual design and original style in combination with the bright colours, that turn the everyday life into holidays. You can buy Ecco watches from the official dealers of the company or by making an on-line order.