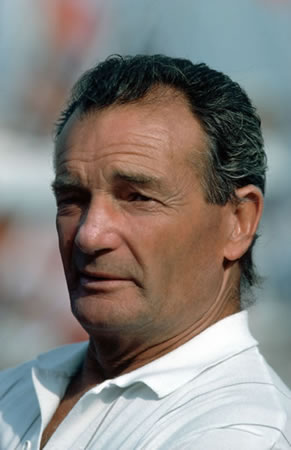 Eric Tabarly can be called the father of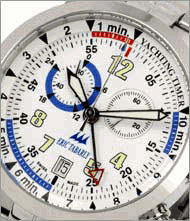 contemporary French and other countries' water sports.
His passion for boats started at the age of 3, when he stepped onboard his father's ship. At the age of 21 he persuaded his father to present him the "PEN-Duick" boat. Being a talented shipbuilder, soon he created his own version of PEN-Duick, which won a prestigious transatlantic sail race in 1964. This race was followed by "Fastnet", "Rum Road" and "Wheatbread". He always looked forward without looking back, he lived from a record to the next record and lived the life he had dreamed about since his childhood. Nowadays Eric Tabarly watch brand presents great models, dedicated to the sea world and travels. For example, the Regatta chronograph model, combining simplicity and modernity, quality and sports focus. The model is equipped with the Swiss ISA 8270 movement. The case is made of stainless steel. The white dial is covered with a sapphire crystal. 2 variants of this watch are available for buying: the model with a steel bracelet and the one with a rubber strap.
There is one more notable watch model, with which Eric Tabarly repeated his 1964-year's success. The "legendary" Newport 76 watch is equipped with a Swiss ETA F06 movement. The case is made of 316l stainless steel and the dial is protected with a sapphire crystal. The model with a leather or a rubber strap is also available. It is water resistant up to 50 metres. You have to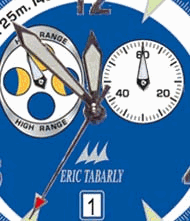 hurry in order to buy a Newport 76 watch, because it's a limited edition model.
Eric Tabarly company introduced a collection, made for the fair sex, it's called Sydney and harmonically combines simplicity with non-intrusive elegance. The nacreous dial, covered with a sapphire crystal, has a "J" letter, printed on it, which symbolizes Tabarly's wife, Mrs. Jacqueline Tabarly's, first name. This collection's models are equipped with the Swiss ETA F05.111 movements. The date aperture is situated at the "6" hour position. The watch is water resistant up to 50 metres. The models are available with different colors of starps.

If you are a sea, land or air travels fan, an Eric Tabarly wrist watch will become your reliable companion in all your active initiatives.