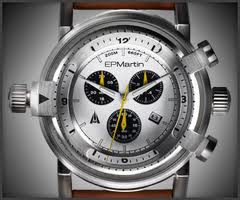 The modern watchmaking industry produces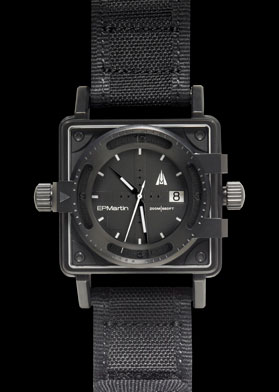 a wide watch assortment of different styles. EPMartin company's production takes a solid place in sports watch segment. All brand's watches are equipped with Swiss ETA movements, their cases are made of stainless steel, the crystals are mineral, the straps are made of Italian leather, the numeric indexes, the marks and the hands are covered with luminescent substance. The watches are water resistant.
EPMartin has produced the following watch collections: "Sahara Expedition", "Running The Sahara", "Sahara Ti", "Motocorsa". "Cartridge".
Sahara Expedition is the first brand's watch. They underwent different tests in extreme conditions and were thoroughly trialed. The best trial for the Sahara Expedition watch was its trial in the Sahara desert. In October 2006 Mike Prstojevich from EPMartin, a professional racer and adventure-seeker Danny Moy and Hunter Ellis from the History TV channel tested the chronograph during the Sahara race. The race lasted for 7 days. The Sahara Expedition watches, adorning the extreme-lovers' wrists, stood all tests decently.
Running The Sahara is a limited edition watch collection, represented by 111 models. The collection's creators were inspired by a runner Ray Zahab's heroic deed, who ran 6,5 thousand kilometres in the Sahara desert with his colleagues, Charlie Engle and Kevin Lin. The sportsmen ran roughly 70 kilometres a day for 4 months. The aim of this move was to attract the society's attention to the problem of drinking water shortage on the continent. The money, raised from the Running The Sahara watch sales will be spent on the Africa water supply project realization.
The Cartridge collection creation was inspired by an American primitive one-round FP-45 "Liberator" pistol, used by the American OSS (Office of Strategic Services), CIA's predecessor. The pistol had a 0.45 calibre and a plain barrel. It was produced in the USA and used during the Second World War.
EPMartin products is in the medium prices range and can be bought from the brand's official dealers.