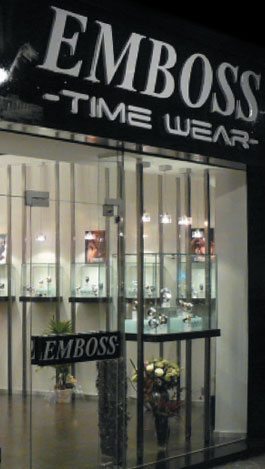 EMBOSS, the Belgian watch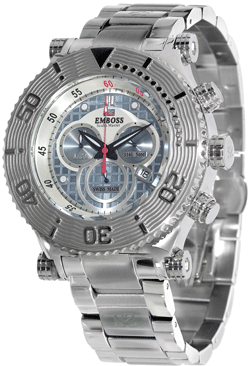 company, was founded in 2003 in Antwerp, the city of diamonds and high fashion. This brand has recently appeared in the watch market, but it is able to compete with many watch companies, that have the rich and long history. The company paves the way for success with the help of daring designer's decisions and innovative technologies for watch production. EMBOSS wrist watches can be characterized as "modern" and "daring" models, they have broken all the conservative rules of watchmaking. This watch company has reached the highest level of the watchmaking art.
While producing its watches, EMBOSS company uses only high quality materials. In 2006, the brand released the SCUBA MASTER watch collection for professional divers. Such a watch has been highly appreciated by the international customers of JA New York Special Delivery Show due to its innovative design. SCUBA MASTER model was awarded the title of «The Next Hot Design» watch.
The watch case is made of stainless steel, the dial is covered with the sapphire crystal. This watch is rather a reliable timepiece, the water resistance is up to 100 meters.
SCUBA MASTER watch is the perfect present for those people, who are fond of water sports and who lead an active lifestyle.
EMBOSS company also offers its clients straps of different colours to fit any taste. The watch straps are optionally produced from genuine leather or rubber. The strap can be easily changed, the choice of the accessory depends on the occasion or clothes.
In 2007, the company released a new BLACK DIAMONDS watch collection. The collection consists of the exclusive watches, encrusted with numerous diamonds, that will surely please women of the refined taste, who are fond of the luxury watches.
Since 2009, the company has been collaborating with the Swiss company, that produces the RONDA watch movements. Due to this collaboration, Emboss company has managed to strengthen its leading position in the watch market. The original design, combined with the Swiss quality, has resulted in the presumable outcome.
EMBOSS watch cases are mainly round, except the VINTAGE watch collection. These watches feature the square cases. The whole process of watch production is under the strict control – from the watch assembly to the packing.
You can buy EMBOSS watches from the official dealers of the company.