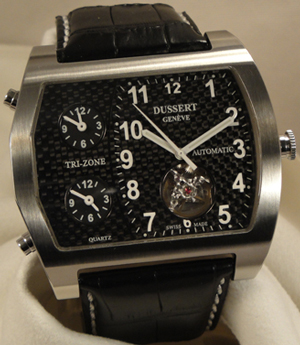 The Swiss Dussert Watch brand was founded on September, 1st 2005. The company was founded by 2 experienced experts, sharing a common passion for good taste, luxurious watch showrooms, flawless quality and colors harmony. Dussert Watch is an independent family company, that constantly develops to satisfy the fast-changing original watch connoisseurs' needs.
The first Dussert Watch brand's collection, including 13 various wrist watches, was presented in 2005. Since that time a lot of high quality models in different coloring have been added to the collection. Most of the collection are watches with automatic movements.
The company's short history contains some significant dates:
• A month after the company's launch, in October 2005, the brand launched its website;
• At the beginning of December the First Dussert Watch representative presented the brand's watch in its showroom;
• In May, 2006, Dussert Watch company became the AM2 sports events official sponsor;
• In May same year Dussert Watch company got 2 weeks of airtime at the Geneva WRG radio station.
• In 2007 2 Dussert Watch models – DW 501 and DW 711, were presented at Grand Prix de l'horlogerie de Genève.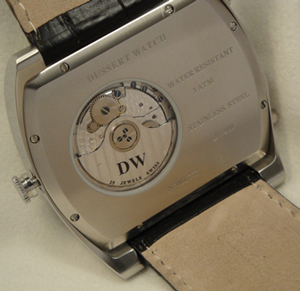 The luxurious DW 501 model is presented in 777 pieces. The model's 38-mm case is made of stainless steel. The indexes are decorated with 8 diamonds, the dial is covered with a sapphire crystal. It is also supplied with an aperture, through which you can see the embedded SOPROD A10BV Aut movement. The strap is made of alligator leather. The model is water resistant up to 50 metres.
The DW 711 watch model is an automatic chronograph. The 40-mm case is made of high quality stainless steel. The dial and the case back are covered with sapphire crystals, through which you can see the inner movement. The strap is made of alligator leather. The model's power reserve is 42 hours and it is water resistant up to 30 metres.
Dussert Watch company's watches are produced in limited editions and supplied with authenticity certificates. The company produces high quality Swiss Made movements, fully assembled in Switzerland, according to the longstanding genuine Swiss watchmaking tradition.
With an original Dussert Watch piece you will be absolutely sure, that your wrist is furnished with a flawless quality, elegance and delicacy embodiment. You can buy a Dussert Watch piece from the company's official dealers.