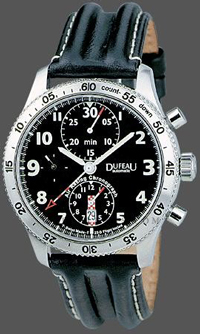 The Swiss Dufeau watch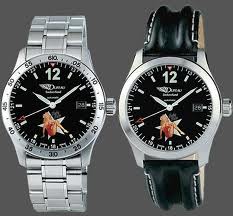 brand was founded by an ex-pilot, Walter Zaugg. The company's name choice is a tribute to Henry and Armande Dufeau, who were among the first Swiss to fly to the sky. Dufeau brothers were also involved in planes and blades production. In 1910 Armande crossed the Geneva lake in all its length, from Geneva to Neuville, by "Apparat No.3 70", having established the World Record.
Dufeau company specializes on aviation watches production. The brand has produced the following watch lines: Nose Art, Air Racing, Planes of Fame, DC-3, Airliner.
All brand's watches are made of stainless steel. Their main peculiarity is the black dials with the luminescent central hands and numeric indexes, the movements are enclosed in round steel cases. All Dufeau models are water resistant up to 100 metres. The black dials, combined with the steel cases and bracelets provide the models' sharpness.
Dufeau watches design indicates the company founder's aviation history. These flight models combine the immeasurable love for aviation and the adoration of watchmaking.