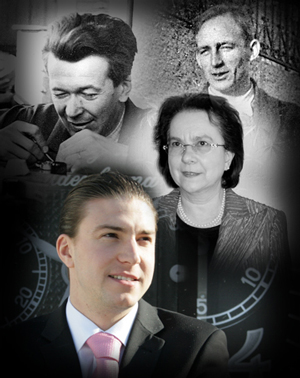 In 1946 a famous watch craftsmen school in La Chaux-de-Fonds teacher Georges Dubey and a watchmaker Rene Schaldenbrand set up their company, which bore their names: Dubey & Schaldenbrand. Dubey worked on a new chronograph seconds splitting system, founded by Joseph Vinnerl, who had lived one century before that time. He designed a simple principle, which was genius in its sense: a spiral spring, situated between the dial and the crystal was driven by pressing a button, situated on the crown, and launched chronograph's second hand, enabling you to measure a time period up to 58 seconds. The mechanism was called "Index Mobile" and became a Dubey & Schaldenbrand embodiment. Most modern split-chronographs are based on the simple and cheap mechanism. The brand became famous for this mechanism rather soon. Though it became world-famous later, when it was headed by Antoine LeCoultre's great-granddaughter Cinette Robert, who had been working in a watch store since she was 16. In 1995 Robert decided to invest her money, energy and ideas in Dubey & Schaldenbrand company, which was in a rather distressful situation. In the time of crisis, when a lot of bankrupt manufactures were selling out-of-date mechanical calibers, Robert was buying everything. Soon she was an owner of a legendary watch movements collection. Robert understood what resonance would be caused by a brand new watch with a new name production. But, suprisingly, she didn't hurry to produce the new watch. The point is that Robert didn't want just to put old movements in new cases, she designed new elaborations for them and founded an engraving workshop of her company.
Dubey & Schaldenbrand company's watches presented a combination of new original flawlessly-decorated cases with rare hand-decorated movements with traditional traceries. Each movement's engraving, which can be seen through the sapphire case, is also unique. You can the company's logo in the form of the Latin "D" and "S" letters and Les Ponts-de-Martel crest – a bridge and a hammer.
The unique Dubey & Schaldenbrand watches attracted watch connoisseurs' and watch art lovers' attention. Soon Robert decided to equip her watches with up-to-date calibers. But the switch to mechanics didn't influence the production technology and design. Moreover, Robert sometimes equipped such important models, as the "Spiral Verso VIP" with her old collection movements.
Dubey & Schaldenbrand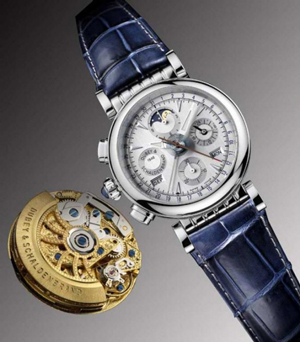 collections are notable for their charm. One lined is named in honor of Georges Dubey's main invention – "Spiral". All collection's models are easily distinctive by the original spirals, situated under the seconds hands.
Dubey & Schaldenbrand company has produced the "Aquadyn" and the "Aerodyn" classic design watch collections. These lines are represented by watch models, equipped with 2 or 3 dials, decorated with diamonds. All models have rectangular cases, brought to perfection by the company's craftsmen.
The "Carre Cambre" line features strictly classic watches with cushion-shaped cases. But this definition doesn't fit for the "Caprice" model with the "9-hour"-situated crown, executed in black, white and red coloring. This is a sports watch.
It's notable, that all Dubey & Schaldenbrand watches are triple-checked. The first check takes place, when the watch is not placed in the case yet, the second – for the ready watch and the third one is carried out three weeks after the watch's assembly.
The company's aim is to create high quality watches. That's why it produces not more, than 6000 watch pieces a year. Moreover, Robert thought, that a watch shouldn't be luxurious and expensive. In 2005 the "Dubey & Schaldenbrand Spiral Rattapante" split-chronograph was produced and sold for € 6800.
Dubey & Schaldenbrand company doesn't try to conquer the world with snazzy luxury. Due to meticulous work at every piece, these watches have been and still are rare objects.