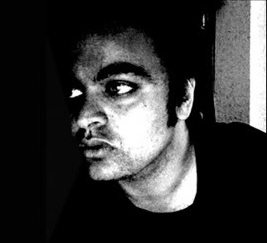 Denis Guidone is a young Italian designer, who is well known to all his admirers for his unusual watches and also known as the author of many amazing projects and concepts. The young designer's collections are rich with diverse wrist watch models, among which are the watch with supplementary hands for multiple time zones, models without hands or digits and many other original watches, that gained many collectors' and wrist watch connoisseurs' hearts. The designer continues amazing everybody again and again, catching modern design lovers' imagination.
Denis started his career with urbanistic trend, realizing and continuing searching for himself in different design, graphics, architecture trends. The young designer is inspired and affected by such people, as Bruno Munari, Enzo Mari and Shiro Kuramata, but he considers, that his teacher is A.G. Fronzoni, who says, that designing a book page can also be called urbanistic design.
Thanks to his unique wrist watches, Denis Guidone has already got some international prizes for original ideas in the sphere of design. His latest prize was awarded for the best 2009-2010 Italian design, which Denis got for the Ora Illegale table clock, which is his own favorite. On of this wooden clock's functions is realized in a rather easy and cunning way: the switch to daylight saving time is performed by simply turning the clock.
Every watch model, created by Denis Guidone is notable for something. For example, the Wherever Watch model with an auxiliary hand, made for time monitoring in different time zones. The model will be especially favored by travellers, for whom keeping track of time in different time zones is very important. Distinguishing time in different time zones is very easy, the hands of different colors will help you do it. You just need to know the hand of which color shows local time and of which – the second zone's time. The designer produced multiple color versions of the watch with an auxiliary hand, enabling everyone to choose the color he or she prefers.
The next exclusive watch model from Denis Guidone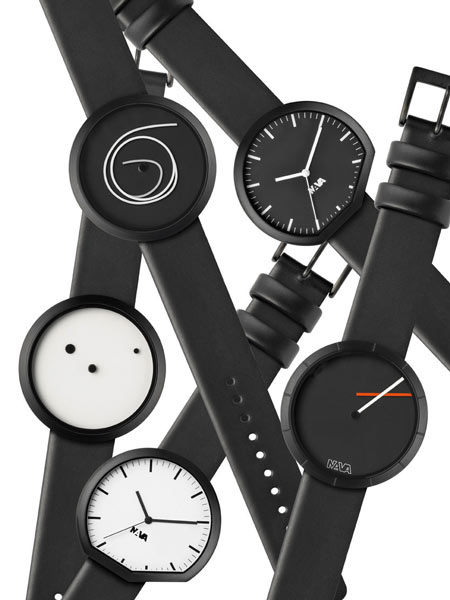 is the watch without digits and hands. The watch from the young designer's collection is executed according to the best minimalism traditions, without any spare elements, in black-and-white coloring. Each Denis Guidone's watch is outstanding. For example, the Ora Lattea watch, which means "The Galaxy Hour", represents a white dial with just 3 black dots on it, reminding stars or planets, scattered in the darkness of the Space. At first sight everything looks simple and easy, but a question arises: how are the 3 black dots, scattered on the dial, related to time? The designer answers this question this way: "It's just the usage of the simplest basic symbols – dots or lines for time flow expression. These are the models proving that the events' chronology is not that important. The only thing, which is important, is that you are between "before" and "after", time flows and the person flows together with it, being, nevertheless, beyond time".
Recently another version of Ora Lattea watch has been produced. This time, the dial is executed in black color with white dots on it.
Such time explanation by the designer can make one think about the existence of the nature of time precision loss or reducing. In present times the availability of time measuring precision makes us reconsider the idea of time and look for new forms of its expression. The designer explains it in this way: "My watch is made to pass my thoughts. With its creation I want to say, that we always have time in the contemporary world, we're surrounded by precise time. My watch neglects the existence of time factor as such. It reflects violation of customary rules, representing the search of perfection, the so-called functional irrationality".
Another young designer's watch model is the Ora Unica watch, representing a black dial with spiral-like hands. The absence of hands proves the absence of directions, when not the vector, but the movement is important, opening the probability of new directions.
Another model, the Ora Vago's hands are like the hands of a compass – they are long and thin. And the Ora Ameba model's hands have regular sizes, but they don't have central parts, just the tips.
As you know, time flows, changing with every second. Time dictates us its rules and design itself. That's why Denis Guidone models' hands, time indexes and dials change so rapidly. The novelty from the young designer, called Sometimes, is not an exclusion. Denis invented an unusual dial and hands design. The model represents hands, that line up in one. You can say, that the dial doesn't exist, it's just a black or a white space, with 2 hands, running around, inserted in such a way, that they form different figures or stripes, or broken lines, or straight lines sometimes, dividing the dial into halves. These are the so-called "dancing" over the dial hands, forming different shapes.
The original Denis Guidone watches from the young Italian designer are peculiar for their stylish minimalism. His watches are an embodiment of the philosophy of time, but not just an attribute or an accessory. The designer explains his approach to watch designing through the inner search of perfection this way: "You have to find perfection and use it to destroy itself".
Nowadays an Italian Nava Design company, founded in 1970 and specializing in paper products creation (calendars, notebooks, etc.) and producing a wide range of such products, as designer's office supplies, furniture, leather products, is involved in production of watches, designed by Denis Guidone.