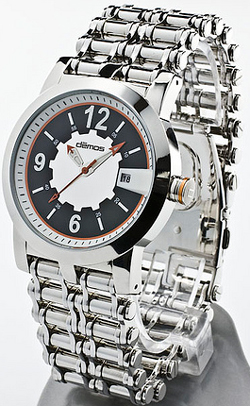 When the company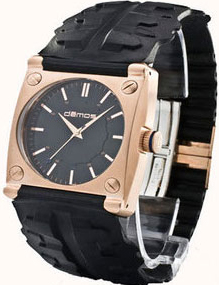 started its activity, its designers concentrated their efforts on creating watches, made for mountain bike riders: watches, that would reflect mountain-bikers' lifestyle.
"Our desire was to design watches, that would reflect the bike riding style and spirit, whether it's mountain-biking, BMX-ing, dirt-biking, a ride to a shop or cruising on a "Harley"", – Demos founders say.
As they speak of themselves: they are just 2 army offsprings, who met by chance and decided to design watches, based on innovative technologies. The company's chief designer, John Cupit had worked at "Nissan Design Centre" in San-Diego, California, which provided him a reputation of a good designer, before he got involved in the watchmaking world. John had designed motorcycles for Aprilia, cars for Nissan and toasters for Black & Decker before he started studying and designing watches. Most of all he was interested in fresh designer solutions, that's why John got interested in wrist watches.
Mark Demos, a chef by training, had never designed a watch before and had never ridden a bike too. But wrist watches were his passion, that pushed him to start his activity in this sphere. As their co-work results showed, the young men's enterprise was rather successful and met generous response. Bikes, symbolizing freedom and riot, became a peculiar symbol of Demos watch company.