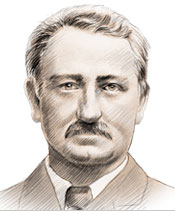 The international De Beers corporation,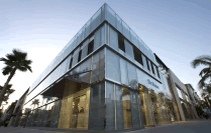 involved in natural diamonds mining, processing and sales, was founded in 1888 in the Republic of South Africa by Cecil Rhodes, a son of an English parish priest. The powerful industry creation was based on an incidental finding: the first diamond in the Republic of South Africa was found by a local shepherd in 1866 in the Orange River valley. Precious tones-hunters soon found out about the finding and many of them rushed to the Republic of South Africa.
The company became the leader of the world's diamond business and signed contracts with many English banks about the exclusive rights to supply diamonds in a rather short period. By 1902 De Beers was controlling 95% of the world's diamonds production. In the 70-s of the XX century new countries, supplying diamonds appeared and the company receded from its positions dramatically. According to the 2008 state, De Beers controls only 40% of the market. The company's name was not chosen as a mere chance: De Beers are the brothers, on whose territory most of diamonds were situated.
De Beers is also one of the biggest jewelery pieces producers. The "diamond giant" has been producing luxe-class wrist watches since 2007. The prices for De Beers watches start at $5000.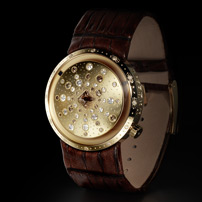 Only high quality expensive materials are used in the watches' production: diamonds, white and yellow gold, stainless steel.
The "Talisman 8" watch collection was designed on the basis of the cognominal jewelery pieces collection. The watches' cases have unusual trapezoidal shapes. According to the watches' creators, their pieces reveal the secrets of time through the magnetism of diamonds. The Talisman 8 watches are produced in Switzerland. At their production 18-carat gold and sapphire crystals are used. The watches are incrusted with uncut diamonds and the "baguette" cut diamonds. The collection is represented by 8 models with automatic, mechanical and quartz movements. You can buy a De Beers watch at the official dealers' showrooms.
On of the latest watch novelties is the De Beers "Talisman Ice Watch". The watch is made for genuine diamonds lovers. The case is made of 18-carat white gold and incrusted with 445 diamonds. De Beers company's craftsmen, having understood all jewelery and watchmaking mysteries, will gladden diamonds lovers with their original and exclusive creations more, than once again.