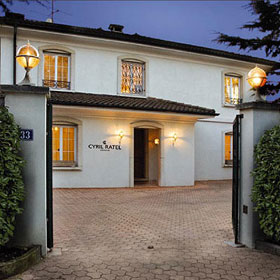 "We have worked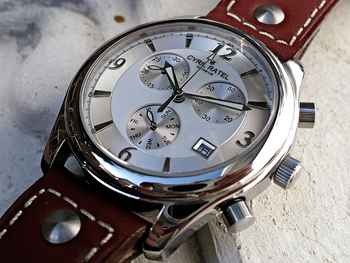 carefully and lovingly over each and all instances of the watch"
The Swiss watch company Cyril Ratel was founded in the early 70th years and has gained an unshakable place in the ranks of leading manufacturers of high-quality timepieces with a unique design. Initially, it produced only mechanical watches. However, the company has managed to navigate during the "quartz boom" and in time established production of quartz watches, which quickly gained popularity. This allowed staying competitive on the rapidly growing watch market and increase sales of their products.
Today, the skilled craftsmen of the watch company Cyril Ratel create gorgeous male and female wrist watches, made in traditional and contemporary style. The accuracy and reliability of the product is enabled by using quality materials and high technology in the creating of watches Cyril Ratel. In the manufacture of watch cases is used stainless steel. Cases of some models are covered with an additional gold cover, which increases durability and gives watches a luxurious and sophisticated look.
The unique look of watches Cyril Ratel is also attached by inlaid with precious stones. Dials of all models are covered with hard and durable mineral. Especially proud of the company are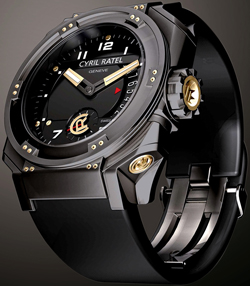 movements, which are waterproof and shockproof, mechanical and quartz. Some models are also equipped with chronographs, which allow accurate measurement of certain time intervals, there is also a model with calendar and stopwatch functions, which makes it indispensable attributes at business meetings and travel, and just in everyday life.
Masters of the watch company Cyril Ratel are constantly working to improve the range of their watches, releasing also watches for collectors. The watch company Cyril Ratel is one of the few companies that have the right to put on the watch the stamp «Geneve», which is a sign of impeccable quality.
The classic collections of the company Cyril Ratel include elegant models of male and female watches and chronographs with distinct shapes. Straps of these models are made of different types of leather, and bracelets made of stainless steel and other precious metals. Models in the modern style combine a modern design and many variations of dials with extended functionality.
The watches Cyril Ratel, inlayed with diamonds and with unique cases, are represented in limited edition with individual number, which will surely find a place in the best watch collections.
For over 40 years the watch company Cyril Ratel has produced original men's and women's wrist watches that can please the requirements of most demanding customers, who put precision and elegance in the first place.
To buy watches Cyril Ratel can from the official representatives of the company, as well as from online stores.